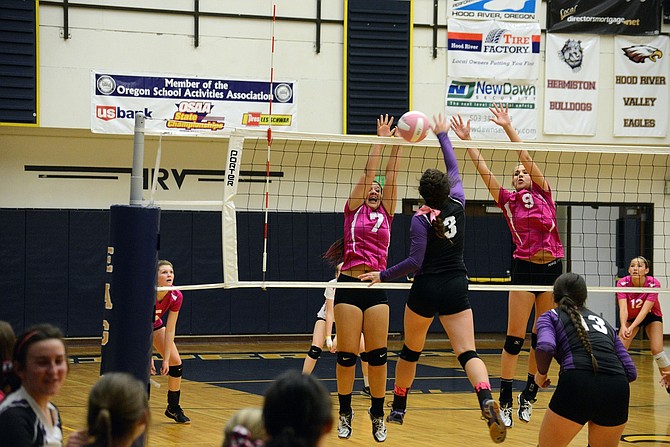 Writing last week's volleyball story, we had an inkling the Columbia River Conference title would be decided by a showdown between The Dalles and Hood River.
Considering how both teams have been beating up on the rest of the conference, it seemed all but destined to happen. After HRV evened up the series with The Dalles last week in a nail-biting five-set match, HRV and The Dalles both defeated Pendleton and Hermiston for the second time this season, both in games that went to four sets.
The CRC neighbors are now deadlocked with a 7-1 CRC record, with both teams' sole league losses coming from each other. And no matter how it goes Tuesday evening, or during the postseason, HRV's turnaround from last year, in a season where the team lost all but three games, is nothing short of remarkable.
HRV had the rare benefit of having two home games this week in their league schedule, starting with Pendleton on Tuesday. The Eagles were tested early, grinding out the first set that was decided by extra points, and went in favor of HRV, 27-25.
The Eagles pulled away with a decisive 25-11 win in the second set, but struggled in the third set, losing 25-14.
"Our serving really saved us with 17 aces as a team," HRV coach Scott Walker said. "We had to come from behind to win the first game. The second game was tight for a little while and then (Rebecca) Johnston went on a big run from the service line. After winning the first two games we had a huge let down and didn't pass or set well in the third game. The fourth game was tight and we got down early, but then stretched out a lead at 22-16 and then hung on for the (25-21) win."
Sophomore outside hitter Shae Duffy had 10 kills and frosh outside hitter/middle blocker Katie Kennedy put the ball away nine times. Johnston served "lights out," according to Walker, with nine aces and Duffy had four.
It was a similar story back at Vannet Court Thursday evening, where the HRV squad, donning pink uniforms for Breast Cancer Awareness Month, had to grind out another hard-fought first set, edging Hermiston 25-22. The second set was more of the same and featured numerous long rallies from both sides of the net, but HRV was once again able to eke out a win, this time by a score of 25-23.
In what has been an Achilles' heel of sorts for HRV this season, the Eagles encountered trouble in the third set, which they lost to Hermiston 25-21. However, like in other games this season, HRV was able to finish strong, dominating the fourth and final set with a 25-12 victory.
HRV plays its final game of the regular season at 6:30 p.m. Tuesday in The Dalles.