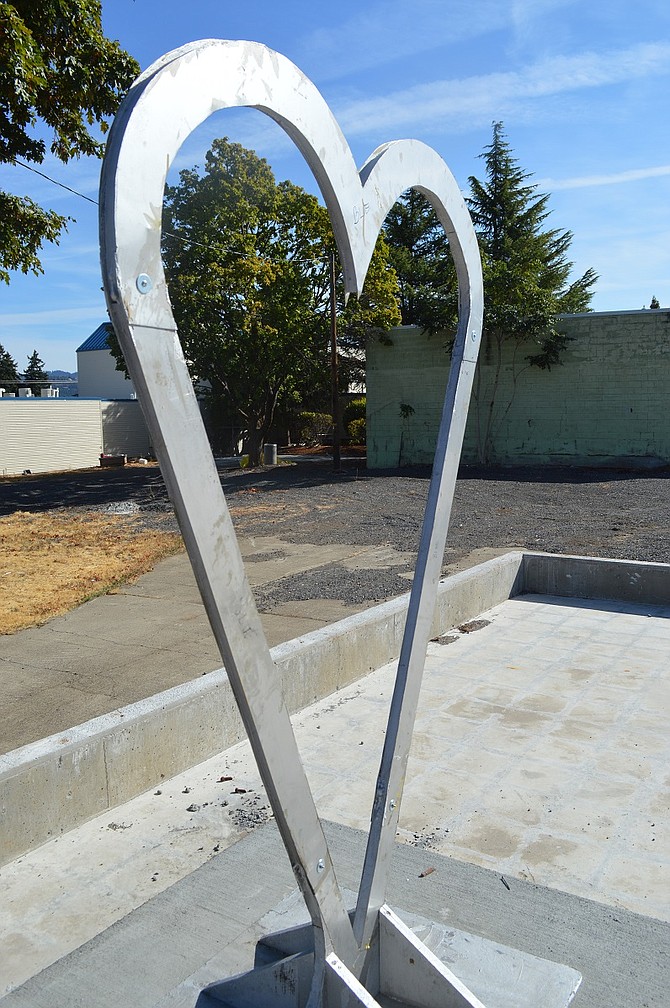 Art of Community large artworks are all installed, including two new locations on the Heights, three downtown and three on the waterfront.
A new map will be printed soon and the tour will be updated on the website, art-of-community.com.
What started in 2014 with 15 sites now has a total of 23 sculptures — 21 now in place — in public locations in all three geographical areas, featuring works by artists from Hood River County and around the Pacific Northwest. All are for sale but will remain in place for a year.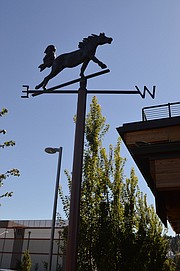 New Art of Community, or "Big Art," sites include two at Best Western Plus Hood River Inn and the recently-completed Nichols Boat Basin trail. Works include those of MacRae Wylde of Hood River: "View," installed in May at Third and State, and his triptych "Jefferson Cubed" at a new location, on Industrial Way at the west end of the Union Building.
The 2014-15 AOC "People's Choice," Whit Poor's "Swan's Song," has been moved to a new location on the public trail in front of Hood River Inn. Poor's "Poise," has also been moved from its original pedestal to a new AOC location, the pedestrian plaza at Sixth and State.
In the same place from the inaugural season are "Constellations II" by CJ Rench, at Hood River Marina, "Origami Totem" by Ken Hall at New Yasui Building (Oak and First) and "Midori Spring" by Ann Fleming, at Hood River Library.
The result of adding art at Best Western Plus Hood River Inn and along the Nichols trail is to both lengthen the AOC route and to fill in the longest gap, between the marina and Event Site.
Here are the works, and details:
1) Equestrian, Matt Babcock, Seattle, Wash., at Hood River Inn (front door), sponsored by Hood River Inn
2) Swan's Song, Whit Poor, White Salmon, Portland, at Hood River Inn along the waterfront path just west of the pool), Sponsored by Hood River Inn
3) Last Love, Patrick Sullivan, Pine Valley, Utah, at Hood River Inn along the waterfront path just west of the restaurant, sponsored by Hood River Inn
No Number, Constellations II, CJ Rench, Hood River, Portway Avenue, west of the Chamber of Commerce
4) A New Leaf, C.J. Rench, at Nichols Basin Park in the plaza area — temporarily at Second and Riverside, sponsored by Port of Hood River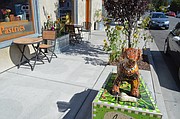 5) Thinker, Ralph Trethewey, Walla Walla, Wash., at Nichols Basin Park along the path at the beach, sponsored by Port of Hood River — coming late 2015
6) Gary Trudeau, MacRae Wylde, Hood River, next to Event Site, NE Corner of Luhr Jensen Building, sponsored by Jane Duncombe and Jay Sherrerd
7) Fly with the Sun, Jesse Swickard, Sherwood, at the NW Corner of Luhr Jensen Building, sponsored by the Dickinsons and the Pickhardts
8) Celilo (sĕ-lī-lō) Sound of water on rocks … post 1957, Gabe Babcock, Corvallis, at Waterfront Park, sponsored by City of Hood River
9) Divorce Weathervane, Sara Ybarra Lopez, Port Townsend, Wash., at Tofurky entrance, one block south of Portway, sponsored by Tofurky
No Number Ta-Dah Happy Humans, CJ Rench, at Second and Riverside
10) Origami Totem, Ken Hall, at the Yasui Building, Oak near Second, sponsored by BMP LLC On behalf of the tenants of the Old and New Yasui Buildings
11) Blue Cheese, Tom Herrera, Mosier, First Street, at the NW corner of Big Winds property, sponsored by Scott W. Edgar DMD, Northern Oregon Endodontics, and Robert S. Henshaw, DDS Oregon Periodontics
12) Dreaming, Heather Söderberg, Cascade Locks, near 2nd and State Street, sponsored by the City of Hood River, coming early 2016
13) View, MacRae Wylde, Hood River, at 3rd and State Street, sponsored by the City of Hood River
14) Chakra, Ken Hall, Lacey, Wash., at Columbia Center for the Arts, sponsored by Tina Castañares, MD, and Doris Castañares
15) Jefferson Cubed, MacRae Wylde, Hood River, at Industrial Way at Davies / Dunn Entrance of the Union Building, sponsored by Davies / Dunn LLP and Union Building LLC
16) Contrapposto, Francisco Salgado, Portland, at 4th and Columbia Park, sponsored by Double Mountain Brewery
17) Muse, CJ Rench, at Doppio, sponsored by Henry & Nan Fischer, Doppio, and Blue Collar Initiative
18) Midori Spring, Ann Fleming, White Salmon, at Hood River County Library, sponsored by Maureen Higgins and Bonnie and Sam Taylor
19) Poise, Whit Poor, White Salmon, Portland, at 6th and State Street, sponsored by Hood River County
20) The Old Rooster, Mark Stevenson, Port Townsend, Wash., on the Heights at Ovino on 13th, sponsored by City of Hood River
21) Chocolate Lab, Mark Brody, Portland, on the Heights at Pine Street Bakery on 12th, sponsored by Columbia Gorge Family Medicine
22) Stainless Heart, Paul Kunihølm Pauper, Seattle, Wash., on the Heights at Providence open space on 12th, sponsored by Providence Memorial Hospital