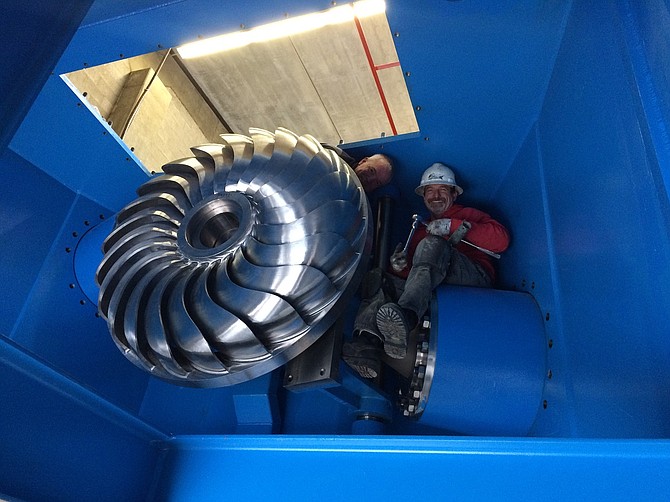 Farmers Irrigation District has swapped out two old turbines for a single heavy duty unit.
Far from eye candy, FID expects the three-megawatt turbine, which generates energy flowing through irrigation pipes, will produce 12 percent more renewable energy than its twin predecessors combined, and save $100,000-$150,000 per year in maintenance costs.
The project came via Energy Trust of Oregon's incentive program, which provided $900,000 of a greater $4.96 million hydro infrastructure project, which will deliver energy to Pacific Power. FID has worked with Energy Trust on several projects in the past, including the construction of an energy-efficient pumping station.
Jer Camarata, manager of Farmers Irrigation District, called the turbine "state of the art."
"What differentiates it from the older Francis units is its ability to operate over a wide range of flows, lower maintenance, greater reliability, simplified operations, and a greatly enhanced ability to stand up to the abrasive, glacial water that we see here in the Hood (River)," Camarata said.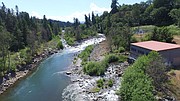 FID's main hydropower station, Plant No. 2, sits on the Hood River near the Copper Dam area. The district started commercial operation of the re-powered plant on Sept. 21, kicking off with the new turbine.
The fully automatic, 31-inch "Gilkes Turgo" machinery didn't appear in FID's turf overnight, according to Camarata. The process took three years to fund, design, permit, and engineer and then three months of actual construction and installation over the summer.
The turbine was the last piece of a three-year project by FID, which also included converting the Low Line and Farmers Canals into a pipeline. All said, the project represented $12 million in water infrastructure for the valley, according to Camarata.
The district began investing in hydropower in the late 1980s as a way to generate revenue and reduce the cost of delivering water to its users — which now number 1,900, residential and agricultural, across roughly 5,800 acres.
One of three irrigation districts in the Hood River Valley, FID provides pressurized water to local farms and orchards, returns water to the river to benefit salmon and steelhead populations, generates renewable energy and manages drought conditions.
The new turbine and generator is anticipated to produce more renewable power than the older turbines, bringing in $130,000 more in revenue, as well as vastly reducing the maintenance costs the needy Francis models required.
FID held a ribbon cutting ceremony for the new machinery Tuesday, Oct. 20 at Plant No. 2, which included opening the doors of the turbine and generator room, and touring the site. Speakers included representatives from FID, Energy Trust, and Oregon Gov. Brown's energy policy advisor.