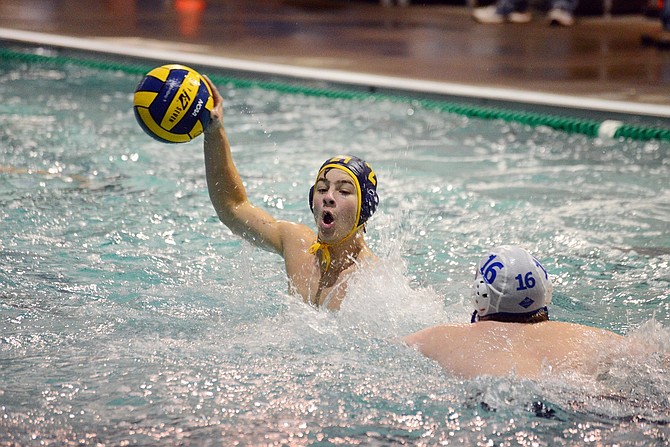 The HRV boys water polo season enjoyed some big wins earlier this week, defeating 6A Reynolds, 8-6, on the road Monday and then trouncing Gresham, 20-7, the very next day in Hood River, giving HRV an 11-1 record and putting the Eagles at the top of the Mt. Hood 5A/6A conference for the first time ever in the team's history.
Another first for the boys this week: defeating Reynolds, which the team has struggled to do in its three-year history — most recently last month when HRV fell to the Raiders, 7-3. HRV struggled initially, going down 0-3 in the first quarter, but battled back late in the game, finally tying it up 6-6 with three minutes left in the game, when a steal by sophomore JJ Mears found its way to Myles Cameron, who sped down the pool on a fast break. HRV's defense held off, and senior Russel Grim, who led the team with three goals, sealed the deal with the game-winning goal with 51 seconds left. Junior goalie Adam Cameron kept the team in the game as well with 17 saves.
"This is a pretty remarkable accomplishment — four of the senior players on the team were on Hood River's inaugural team just three years ago, so the sport of water polo in Hood River has come a very long way in a very short amount of time," said team administrator Renee van de Griend.
Dave Cameron agreed, noting players are even "stronger, more well-rounded" than last year's state champion runners-up.
"These guys have basically been doing it for four years and this is their year," he said.
On Tuesday, the boys had a much easier go of it, shutting down Gresham, 20-7, which van de Griend said was "a relief after the white-knuckle game the day before." For the second day in a row, Grim led the scoring effort, this time with five goals, followed by Blake Winner (4), Cole Rothman (3), Mears (2), Charlie Sutherland (2), and Arthur Finstad, Cameron, and Pelle Bergstrom with one apiece.
The boys handily beat Grant Thursday (check Wednesday's edition for full coverage) and then faced 5A rival Hillsboro on Saturday. The boys finish their regular season next week with games against Parkrose on Tuesday, Barlow on Thursday, and Hillsboro again on Halloween, which will determine whether HRV gets a state tournament berth.
"Right now I can tell you my heart rate is up… but I'm forecasting that we're going to do well," Cameron said.