Oregon Gov. Kate Brown has selected Rep. Mark Johnson (R-Hood River) to share leadership in a newly forged Oregon Solutions program, Columbia River Highway Collaborative, which will tackle safety and congestion issues in the Gorge.
The team, convened by Johnson and Multnomah County Commissioner Diane McKeel, will be made up of public, private and civic leaders. The goal: spurring practical and sustainable solutions for traffic and tourism impacts in the region.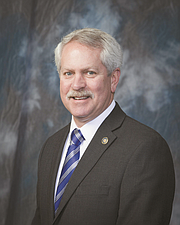 "I'm honored to be selected by Gov. Brown to help lead this important initiative," Johnson said. "I look forward to working with all stakeholders to learn what can be done to manage the increasing demands for use while also looking out for the best interests of local residents."
Stakeholders include the Gorge Commission, Oregon State Parks, Travel Oregon and Oregon Department of Transportation, Johnson said. The team will focus largely on managing the impact of tourists who flow through the scenic area.
"The historic scenic highway provides access to the wonders of the Columbia Gorge including its amazing waterfalls and spectacular hiking trails," Brown said in a statement. "With its success as a premier tourist attraction comes the obligation to manage the related congestion resulting from the large number of visitors in a way that preserves the integrity and values of the Columbia River Gorge Scenic Area."
Johnson said the community appreciates tourists, but the "influx" has become an issue in managing congestion, especially for traffic. Constituents in his district, including first responders in law enforcement, have expressed concerns that I-84 is getting bogged down.
"The Columbia Gorge Scenic Area is loved by Oregonians and is a national treasure — but all of this attention and affection is resulting in congestion that risks diminishing the quality of the experience for all."
He said nothing is on the table in terms of policy items for the Oregon Solutions team, but he hopes the group will "have something positive by next tourist season."
Brown's decision to designate the Historic Columbia River Highway Collaborative as an Oregon Solutions project came at the request of state and local community leaders, after the project received an assessment by Oregon Solutions staff.