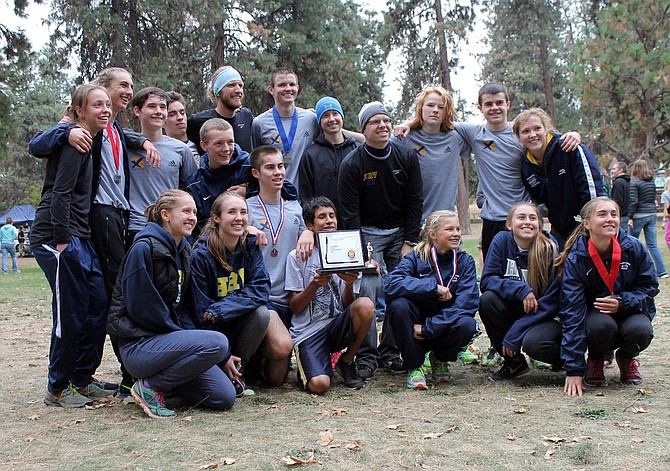 Columbia River Conference teams scrapped tooth and nail last weekend at the CRC Championships in The Dalles, with the decision of who gets to go to the OSAA 5A State Championships and who gets to stay home not made until the last 500 meters.
Team results:
Boys:
HRV: 32
Hermiston: 37
Pendleton: 63
The Dalles: 87
Girls:
The Dalles: 47
HRV: 52
Pendleton: 53
Hermiston: 69
Individual results:
Boys:
Justin Crosswhite (1st, 16:56), Quinn Fetkenhour (2nd, 17:00), Connor Truax (7th, 17:11), Jesse Wiley (10th, 17:22), Jacob Bromham (12th, 17:32), Elkin Parker (18th, 18:15), Finn Peterson (24th, 18:37)
Girls:
Daisy Dolan (2nd, 20:38), Lauren Robinson (4th, 20:58), Josie Petersen (6th, 21:43), Sophia Marble (19th, 22:43), Denali Emmons (21st, 22:52), Katie Perkins (23:39).
The boys, who have been the top of the CRC all season, stayed that way on Saturday, defeating rival Hermiston by just five points to win the first-ever CRC title for Eagles cross country. The girls race was even tighter, with HRV losing to The Dalles by five points and edging Pendleton by just a single point to take second and the final team spot at the state meet. This is the second year in a row that both the boys and girls teams will head to state will full rosters.
"From a coaching standpoint it was very emotional… It was a real privilege and a treat to be a part of," HRV coach Brandon Bertram said of the close competition. Bertram was awarded CRC Coach of the Year honors for the boys' first-place finish.
Bertram said he wasn't surprised at all that Hermiston was so close to HRV, judging by how the Bulldogs have run this season.
"We knew they were going to be there," he said. "We never took it lightly in any way."
Bertram said he had a single message for both teams, which, at the conclusion of each race, appeared to have gotten through to his athletes.
"Be smart the first mile, position the second mile, and win the third mile," he explained. "And they did just that."
Top HRV runners Justin Crosswhite and Quinn Fetkenhour had things fairly well in hand in the boys' race, locking up the first and second spots, respectively, and about 10 seconds ahead of the next fastest runner. But it was the three, four, and five guys — in this case, Connor Truax, Jesse Wiley, and Jacob Bromham — who really came through for HRV. Bertram said the triumvirate poured it on in the final 500 meters, speeding from behind to overtake competitors, with Truax picking off three Hermiston runners to help give the Eagles the victory.
"We only won by five, so every Hermiston guy (Truax) beat was like two points," he explained. "Up until 500 meters to go, we were not winning that race. It was a very emotional, intense race. It was fun to watch."
The girls' race was similar, with Bertram expecting a close contest and was pleased with the result, saying the girls "did their job," with each athlete finishing the race in a place he felt matched up well with her ability level.
"It took every single body. We knew going into it was going to be a swing of three points," he said.
With Daisy Dolan in second and Lauren Robinson in fourth, it was frosh Josie Petersen who was the real difference maker for HRV, passing numerous people in the last 600 meters, and helping push HRV into second place.
"With about 500 or 600 meters to go, she just started beating people, willing herself to the finish line," Bertram said.
The race was especially challenging due to the layout of the course at Sorosis Park, with "a lot of turns, a lot of positioning changes, and a large hill that climbs for about a half-mile," Bertram explained. Not only did neither team set personal or season-best records in the race, only one runner overall had a personal best (Marissa Heemsah, a sophomore from The Dalles). However, Crosswhite, Fetkenhour, Truax, Dolan, Robinson, and Petersen all earned All-CRC honors for finishing in the top seven.
With the CRC meet done, the team now turns its attention to the state meet, held Oct. 31 at Lane Community College in Eugene (girls start at 1:15 p.m.; boys start at 1:50). Training-wise, there's not much to adjust, with Bertram noting that the "hay is in the barn" and that "motivation takes care of itself at a state meet." Besides powerhouse Crater Lake on the boys' side and Mountain View and Summit for the girls' race, Bertram said the meet is pretty wide open for any team to step up to the challenge… and to the podium. And the CRC finish, while an achievement for both HRV teams, is not the end of the Eagles' to-do list this season.
"We still have goals to achieve," Bertram said. "We're definitely not done yet."