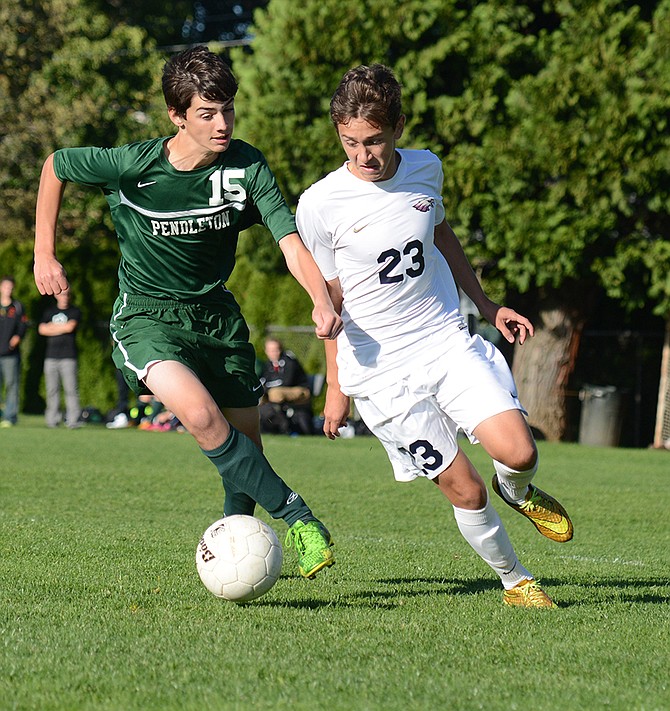 The defending OSAA Class 5A boys soccer state champion Hood River Valley High Eagles have advanced to the state finals the last two years. The Eagles, guided by sixth-year head coach Jaime Rivera and assistant Felipe Rayo, have another talented squad again this season and they'll be seeking to return to the state championship game for a third straight year.
"The core group that played in the finals two years in a row was a pretty special group of kids," said Rivera, 34, who has led Hood River to the state playoffs six straight years. "This is sort of a new team, but we have seven returning players that played on our state championship team last year. We have a well balanced team with a good group of seniors, juniors and sophomores. We have a pretty awesome group of kids again this year. They have the ability to certainly write their chapter in the history of Hood River Valley soccer. It might take a little time for them though, but we hope to have a solid lineup by at least halfway through the season."
The Eagles opened their season Aug. 27 with a rematch of last November's championship game (a 2-0 HRV win over the Woodburn Bulldogs). Woodburn (13-3-1 last year) got some revenge with a 2-0 win last Thursday. The Bulldogs scored two goals in the last five minutes to get the victory. The Eagles had a good chance to possibly tie the game 1-1 with a late corner kick with a minute left. However, the Eagles conceded a Bulldog counter attack goal with less than a minute remaining in the game.
Hood River plays its second game of the season Thursday at 4:15 p.m. in Portland against the Franklin Quakers of the Portland Interscholastic League. Hood River's opening home game is Sept. 8 at 4:30 p.m. versus the Hillsboro Spartans.
Hood River Valley (18-0 last year) lost a total of 11 graduating seniors from the 2014 state championship squad. The Eagles certainly have been one of the most dominating teams the last two years, while compiling an overall record of 34-2-1. The Eagles hope to have similar results from this year's squad too, as they seek to continue their winning tradition and return to the state finals Nov. 14 at Hillsboro Stadium.
"We'll need a little bit of time to figure out our team chemistry, but there's no doubt that we'll be a very tough team again this year," said Rivera, who utilizes a 4-4-2 formation on the field. "It's important for us to focus on having a good defensive coverage. I expect that Noe Magana will be a really dynamic goal scorer for us. He's an awesome athlete and he has really developed into a great player now. I'm really happy to see how well our goalkeeper Marco Cuevas is playing too. I also expect midfielder Joel Garcia to lead our team to with his passing and playmaking ability in moving the ball around the field."
For the defending Columbia River Conference champion Eagles, they'll rely on seniors Cuevas, Garcia, Gil Evangelista, Noah Noteboom and Andres Baeza to provide leadership and help the team succeed on the field. Cuevas is HRV's starting goalkeeper and he'll have help in the net from backup sophomore keeper Travis Running.
"It felt pretty good to see our team win the state title last year," said Running. "Of course I think we'll have a chance of reaching the finals again and I'll do everything I can to help our team get there. We need to just work together as a team. This is a brand new team from a year ago with many different players, but I'm sure it will be an interesting season."
A couple of younger players who will also help to contribute to the Eagles success includes juniors Diego Ortiz and Pico Sankari.
"I think we can continue having similar success that we've had the last two years," said Ortiz. "We have another strong team this year that's capable of defending our state championship. We just have to continue working hard to stay on top."
Key players also expected to help lead the Eagles include sophomore midfielder Alvaro Ramirez, defenders Angel Sonato, Emy Gutierrez, Aaron Lachino and midfielders Patrick Humann and Carlos Marquez. Sonato, Garcia, Noteboom, Cuevas, Running and Antonio Bustos all made significant contributions to the Eagles stellar 2014 championship season.
"I think we'll be fine and we want to go for it again and we'll do everything we can to try and accomplish our goal of going to the finals again," said Marquez. "We have some good players that return from last year's championship team and we have some sophomores and juniors that will also be key players for us as well."
Hood River has a total of 56 players on the freshman, junior varsity and varsity squads. The Eagles varsity team has a 15-game regular season schedule that concludes Oct. 27 at The Dalles Riverhawks. HRV's six game CRC schedule begins with a Sept. 30 road matchup against the Pendleton Buckaroos.