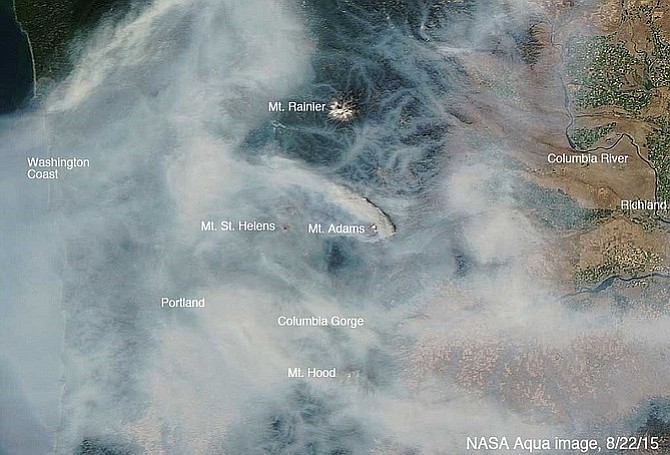 The state Department of Natural Resources shut down Klickitat County's logging industry last Wednesday, Aug. 19, in response to the extreme wildfire conditions that exist throughout the county.
The notice of a move to Industrial Fire Precaution Level (IFPL) 4, the highest level, affects almost all of eastern Washington's forested areas, and is believed to be the first time in more than 20 years that DNR has had to take such a drastic measure.
IFPL 4 is a general shutdown of forests, and all industrial forest activities, such as timber harvesting and road construction, are prohibited.
"The move to Level 4...is based on extreme fire danger across the eastern half of the state," the DNR said in a press release dated Aug. 19. "DNR sets IFPLs to manage wildfire risk from industrial forest activities..."
IFPLs apply to all industrial operations that might cause a fire on or adjacent to lands protected from fire by DNR.
"It's a smart move," said Jason Spadaro, president of SDS Lumber Company. "Forest fuels are extremely dry, and fire hazard is more extreme than we've seen in a very long time. That, coupled with firefighting resources throughout the western U.S. being stretched to the breaking point, it makes me think it's wise to restrict all activities in the forest. A little lost production and sacrifice is a small price compared to a forest fire."
Spadaro said timber land owners are encouraging all members of the public "to be extremely cautious, or just stay out of the woods altogether, and to definitely adhere to all private land closures.
"We don't want any more catastrophic fires or tragedies," Spadaro said, referring to the deaths last week of three U.S. Forest Service firefighters working a massive fire in north-central Washing-ton, near the town of Twisp in Okanogan County.
The DNR's rolling shutdown began Aug. 19 in IFPL Zones 609W and 609E in Klickitat County. The county's IFPL zones are divided into west and east sectors by the Klickitat River.
At midnight last Thursday, DNR increased the IFPL to Level 4 in parts of Pend Oreille, Ferry, Okanogan, Spokane, and Stevens counties. The shutdown of forests ex-tended to parts of Chelan, Kittitas, Yakima, and Benton counties at midnight last Friday.
Certain Yakama Nation lands in southeast Yakima County were exempted and remain at Level 3, in a partial shutdown that prohibits some activities and limits others to the hours of 8 p.m. to 1 p.m., and requires fire equipment and fire watch on site.
Carrie McCausland, DNR's deputy communications director, said DNR Region managers make the decision in most cases concerning the setting of IFPLs.
"Fire danger levels and other factors, such as state fire preparedness levels, are considered," McCausland said.
As multiple large fires burn uncontained across the state, firefighting resources are being stretch-ed to their limits. The control of IF-PL settings is one tool the DNR can use to manage wildfire risk.
McCausland said the impacts being created by 17 major fires burning on close to 400,000 acres of Washington were factors considered in moving the IFPL to Level 4, "though the largest factor is the potential for additional fires."
By law, DNR uses two closure systems to reduce wildfire risk on 12.7 million acres of private and state forest land protected by the agency.
"Activated when needed during the summer fire season, one closure system applies to woods workers and other industrial forest users," reads an IFPL brochure. "The other set of protections is aimed at the general public, but also includes local residents, landowners, recreationists, and forest workers. Wood workers are required to observe both sets of restrictions as fire danger dictates. Other land users only need to follow the public use restrictions."
DNR's public use restrictions limit activities on DNR-protected forest land during periods of high fire danger.
Under DNR's Summer Fire Rules, from April 15 to Oct. 15 (or later if the fire danger warrants it) the following restrictions are activated: Cigarette smoking on forest land is only allowed on roads, cleared landings, gravel pits, or similar cleared areas; and chain saw use in non-industrial work, such as firewood cutting, must follow IFPL requirements.
McCausland said, while firefighting costs for the 2015 fire season are not known at this time, the Blue Creek Fire in Walla Walla County, "which was ignited by a combine during wheat harvest, cost $10,313,841 to fight."
The human-caused fire began on July 20 and burned 6,004 acres of grass, brush, and timber. The fire also destroyed one residence and 11 outbuildings before firefighters contained it on Aug. 4.
DNR had to request $73 million in supplemental funds from the Legislature to pay for fire suppression costs for the 2014 season.
"We will follow the same process for this fire season," McCausland noted.
In the current budget for attack—to pay for crews to be equipped and ready to fight fires—DNR sought $10.66 million and received $7.41 million. DNR also asked for $42.9 million to pay costs of suppressing fires and received $41.112 million, McCausland said.
Last week, President Barack Obama approved Gov. Jay Inslee's Aug. 19 request for a federal Emergency Declaration to provide additional resources to cover some of the costs related to the multiple wildfires burning in northern Washington, as well as throughout Oregon, Idaho, and Montana.