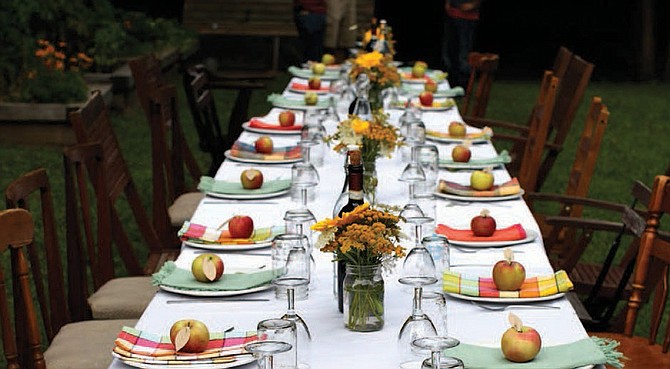 Harvest Dinner
Gorge Grown Food Network hosts its annual Harvest Dinner at Kiyokawa Family Orchards in the Hood River Valley on Sept. 27, featuring a classic four-course farm dinner prepared by Chef Ben Stenn of Celilo Restaurant and Bar. Dinner will highlight seasonal produce and local meat, all raised right here in the Gorge. Each course will be accompanied by local beverage pairings. Live music will be provided by
The June Bug Boys. The event is a fundraiser for the nonprofit Gorge Grown Food Network, which works to build a thriving local food system in the Gorge.
Tickets are available at gorgegrown.org, or call (541) 490-6420.
Moroccan Fête at River Daze
River Daze Café in Hood River is the site of a Moroccan feast hosted by Giselle Kennedy of Quincho on Sept. 20, beginning at 6 p.m. Kennedy and chef Jon Moch, who have both traveled in Morocco, will draw on their experience in the country to create the meal and ambience. The space will be
transformed into a dreamy Moroccan medina,
and the menu includes food made from centuries-old recipes. There will be surprise entertainment and vagabond stories from the land of snake charmers, camels and teahouses.
Quincho celebrates food culture and culinary traditions from around the world. Kennedy works with local businesses, farmers, chefs and community partners to create delicious, memorable and authentic food experiences. For more information and tickets for the event, go to quincho.co. If you want to learn how to prepare your own Moroccan meal, Kennedy hosts a Moroccan cooking class at Wildcraft Studio School in White Salmon on Oct. 3. For information, go to wildcraftstudioschool.com.
Fill Your Pantry
The first annual "Fill Your Pantry" farmers' market will be hosted by the Rockford Grange (4250 Barrett Drive in Hood River) on Saturday, Nov. 7, from 2 to
6 p.m. The special market provides a way for Gorge residents to stock up for the winter months with stor- able food products grown by local farmers. A variety of nutritious, locally-produced staples will be available for purchase in bulk, direct from producers. Products available include potatoes, onions, garlic, root crops, winter squash, grains, beans, cornmeal, fruit, meat, honey, cheese, dried herbs and jams. The event will include food storage demonstrations, educational materials, kids activities and live music. Vendor space is still available. For information, contact Bonnie Cox at bonniehcox@gmail.com.
Celilo cooking classes
Just in time for the winter culinary doldrums, Chef Ben Stenn of Celilo Restaurant offers a series of cooking classes. On Jan. 26, Stenn will teach a class on "Winter's Bounty." On Feb. 23 is "Vegetarian Preparations," and April 19 brings "Early Spring CSA Basket." The classes are taught in the restaurant
kitchen at Celilo. They typically last about three hours, beginning at 5:30 p.m. Stenn covers specific techniques and preparations, and the classes culminate in a meal that the class members enjoy together. Classes cost $85 and are limited to 12.
To register, call Celilo at (541) 386-5710.
Art of the Harvest
Celebrate the rich agricultural bounty of the Columbia River Gorge at Hood River's Columbia Center for the
Arts with its September show, "Farm to Fork – Art of Harvest." Seventeen artists from Oregon and Washington present artwork in a variety of media that depict all aspects of harvest, from illustrations of scenes behind the scenes at local farms, to the interpretations of the harvest, to finely crafted implements of the dining
table. The show represents a visual return to our ancestral tradition of harvesting our food directly from local farms to local forks. The show runs from Sept. 1-27. For more information, go to columbiaarts.org.
Gorge Grown Food Network Receives Grant for "Veggie Prescription Program"
Gorge Grown Food Network is the recipient of a $20,000 grant from the Jerome S. and Barbara Bischoff Discretionary Subfund of The Oregon Community Foundation to fund a new Veggie Prescription pilot program in the Columbia River Gorge.
Gorge Grown and its community partners launched the Veggie Prescription (or Veggie Rx) program in August. The Veggie Rx program will work to address food insecurity in the region by providing vouchers to low- income community members that can be redeemed
at local farmers' markets and select grocery stores for fresh fruits and vegetables. Under the program, healthcare and social service providers will identify patients who suffer from food insecurity through a questionnaire. The providers will then write a prescription that patients can
fill at farmers' markets and grocery stores throughout the Gorge for fresh foods.
Several local healthcare providers are providing matching funds specifically for the fresh produce vouchers including Providence Hood River Memorial Hospital, Mid Columbia
Medical Center, Skyline Hospital and the Columbia Gorge Health Council. The Tofurky Company is also providing funding support. That's over $30,000 for direct purchase of local fruits and vegetables by voucher recipients. Gorge Grown will partner with Oregon State University to provide nutrition and cooking classes to participants of the program.
"We are really excited about this opportunity to address food insecurity in partnership with the health care community while supporting local farmers.
Hunger is a medical issue." said Sarah Sullivan, Executive Director of Gorge Grown Food Network. Similar pilot programs have worked with small, focus groups. "What makes this model unique is the potential to really impact epidemic hunger in the Gorge by providing support to thousands through multiple channels and markets."
Farm-to-Fork in The Dalles
The Dalles hosts its first farm-to-fork dining event on Saturday, Sept. 26, at The Pines Estate—one of Oregon's oldest vineyards— during the heart of the grape harvest. Autumn Harvest Farm 2 Fork will celebrate
the farm-fresh cuisine and wines of the eastern Columbia River Gorge. Guests will savor a six-course al fresco meal, live music and local art. Local chefs Mark Linebarger of Baldwin Saloon and Tamara Hoffman will create memorable dishes with ingredients from a number of local farms and artisanal food producers, including Sunny Daze Farm, Raz's Organics, Pereira Honey, Johnston Orchard, Cascadia Creamery, Sandoz Farm and United Farms. The six courses will be paired with local wines from The Pines 1852, Sunshine Mill Winery, 15 Mile Winery and Moody Toll Bridge Winery.
"The Dalles area has a rich agricultural tradition, and we are excited to welcome guests to experience the seasonal produce and wines that our farms and wineries have to offer this harvest season," said Lisa Farquharson, president of The Dalles Area Chamber of Commerce.
"We also invite attendees to make a weekend of it and explore all that The Dalles and the eastern end of the Columbia River Gorge Scenic Area have to offer."
Tickets for the event are $95 per person. Cousin's Country Inn in The Dalles is offering special rates for event participants. For information, and to purchase tickets, contact The Dalles Area Chamber office at (541) 296-2231, or go to thedalleschamber.com.