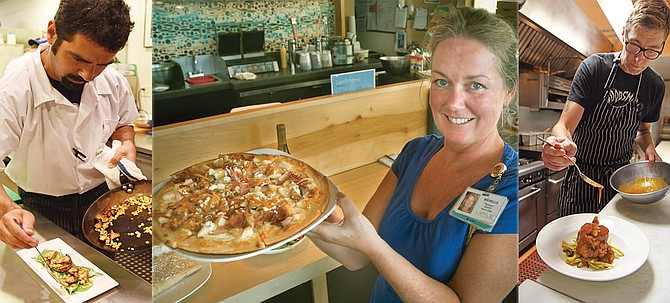 Celilo Restaurant, Hood River: Grilled peppers, corn, chanterelle mushrooms, arugula cream
Things that go together: Lock and key, soap and water, Bogey and Bacall. You get the idea. Chef Ben Stenn would add: corn and chanterelle mushrooms.
"It's based on the idea that things that show up together, belong together," he says as he sautés the Dickey Farms corn and Mount Adams chanterelles lightly in olive oil. Long a practitioner of farm-to-table cooking, Stenn focuses his menu on what the seasons provide, and many local farmers arrive at his kitchen door each week.
On the cusp of fall, Stenn pairs the sweet corn and earthy mushroom
with Anaheim chilies from Wildwood Farm. He seeds, then grills the pepper, leaving the slightly charred skin intact to bring the caramelized flavor to the plate. For a bright herbal accent, he uses the corn cobs (he calls them "corn bones") to make a corn stock as the base for an intensely green arugula cream sauce: Zion Farms arugula, reduced cream and that corn stock, blended until smooth. A final kiss and acidity comes from a sprinkle of sheep's milk feta across the top.
"But you could really use any crumbly cheese if you wanted to make this at home," Stenn advises, including fresh Mexican cotija from the mercado.
And to drink alongside? Stenn recommends a nice bottle of Syncline Rosé from the Celilo wine list.
Vintage Grill, Hood River Hotel: Bone-in Pork Shank confit, fresh shell and yellow beans, fall peppers two ways
The bright lights, big city of Portland are now in Jason Barwikowski's rear view mirror. And that's just the way he likes it. He and his wife grew up in small towns in the West, and Barwikowski longed for the feel of a fly fishing rod in his
hand again.
He left behind a string of successful chef gigs—Woodsman Tavern, Clyde Common, Olympic Provisions—to take the chef position at Vintage Grill, the restaurant nested inside the Hood River Hotel. He's slowly adding his Oregon farm-to-table touch to the primarily Southern-focused menu at the Grill.
This fall, he's turning local fresh beans and sweet and hot peppers into tight companions for a bone-in pork shank. In August, Barwikowski used yellow pole beans for this dish, but by September, he'll transition, along with the harvest, to fresh shell beans.
What are fresh shell beans, you ask? When pole and bush beans hang on to the vine past their mid-summer glory days, the beans inside the pod start heading toward the dry, starchy state of dried beans, the ones you buy in the bag for navy bean soup. But they're not there yet. They're still just moist enough to be something entirely different: not tender, not dried, but oh so good sautéed with onions and herbs, and fresh strips of roasted peppers, which is exactly what Barwikowski does.
And then he takes a mix of sweet and hot peppers, and cooks them down ever so slowly over three hours with garlic, onions, herbs, carrots, Cherokee purple tomatoes and a splash of
vinegar and wine until they are mahogany red-brown. He gives it all a gentle ride through a food mill, just to lay on the velvet.
Barwikowski cooks the Carlton Farms pork shanks nice and slow the old fashioned confit way: submerged in fat and herbs, to a tender and succulent crescendo. When you order it, that shank gets a dip in the deep fryer, which preserves all its porky juiciness and adds a nice crust.
Then that gathered nest of beans and peppers opens its arms wide for a crispy pork shank, swathed in velvety pepper sauce, and a handful of roasted almonds.
Water's Edge Bistro, The Dalles: Pear Flatbread
Most restaurants want to cater to your taste buds and send you away full and satisfied. Water's Edge Bistro in The Dalles would like you to leave healthier, too. The bistro is part of the Mid Columbia Medical Center's
Water's Edge health complex that includes a spa, fitness center, and a number of health services, from diabetes education to cardiac rehab.
If you're tempted to think "hospital food!" … don't. The Bistro, as well as MCMC, are committed to serving as much local, freshly prepared food as possible, no easy task in a big food service operation with a lot of competing interests and dietary considerations.
But, says Michelle Bell, the Bistro's manager, the farm trucks do roll in: mushrooms and strawberries from Hood River Organic; lettuce, tomatoes and cucumbers from Nature's Finest in Parkdale to name-drop a couple.
You can keep an eye on those local veggies at the Bistro's open kitchen, where staff can be seen making smoothies from scratch, or preparing their pear flatbread. Just coming up on the Bistro's fifth anniversary, Bell says this is one of its customers' long-time favorite dishes. With this year's pear harvest in full-swing, the dish gets fresh organic pears.
The 12-inch flatbread is brushed with garlic-infused olive oil, then topped with applewood-smoked bacon, blue cheese, caramelized onions, local honey, and those organic pears from Hood River Organic.