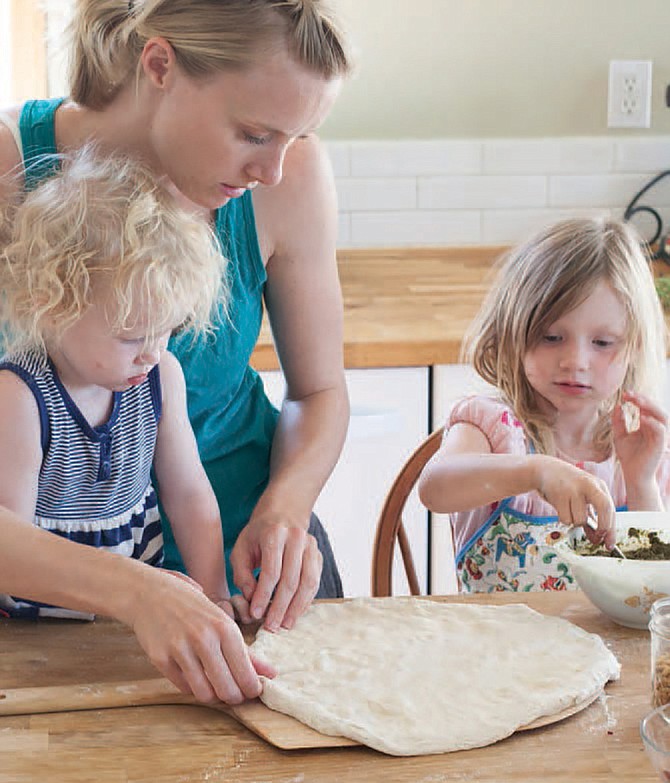 I love to cook, and I love to cook with my kids. I spend a lot of time planning, shopping and cooking food for my family. We eat dinner together as a family every night and we generally expect our kids to eat what we eat.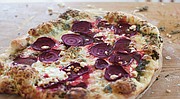 Pizza Recipe
two balls of pizza dough 1 cup pesto
2 cups shredded mozzarella
1 red beet, peeled and very thinly sliced 1 cup shredded kale
1/4 cup toasted pine nuts 1/4 cup goat cheese
2-4 sprigs fresh thyme
Preheat your oven with a pizza stone to 400ºF.
Top a pizza paddle or the back of a baking sheet with a bit of corn meal. Working with one dough at a time, stretch out the pizza dough to the size you would like. Place the stretched dough onto the corn meal and give it a shake to make sure it will slide off easily when you transfer it to the oven. Divide the pesto between the two pizzas, followed by the mozzarella. Top each pizza with some of the beets, kale, pine nuts and goat cheese. Cook the pizzas, one at a time, until the cheese is bubbly and the crust is dark and golden on the sides and bottom. Sprinkle the finished pizzas with a bit of fresh thyme.
As a food writer, blogger and lover, having my kids enjoy food and eat well is very important to me, and I find that the best way to accomplish this is to get them involved in the kitchen.
Getting kids involved in cooking has wonderful benefits: they practice patience, following directions and taking turns. They learn new skills like whisking, cracking eggs and turning the pepper grinder. There is nothing better than seeing a child beam with pride when she's been entrusted with a "grown up job." No matter how old your child is, there are new skills, challenges and lessons to learn in the kitchen.
My daughters, who are two and four, love to help with all aspects of the family meal.
They do everything from assembling the ingredients to setting the table. Their favorite types of meals are ones that require assembly, such as making pizzas with fresh vegetables from our garden.
I have them help make the pesto sauce, then I get all the other ingredients prepped to go on top of the pizza. They do a (pretty) great job taking turns adding ingredients like thinly sliced beets, shredded kale, pine nuts, goat cheese, and fresh herbs. They have so much fun cooking with me, and are always excited to see "their" meal served at the dinner table.
A few tips for cooking with kids:
Adapt tasks for different ages. My four-year-old can whisk a salad dressing together, while my two-year-old loves to shake up a dressing once the ingredients are sealed in a small jar.
Serve them meals that they can assemble. My kids love Posole since
they get to add their own toppings like cilantro, sour cream, cojita, and radishes. Let kids assemble their own sandwiches like BLTs and add fun ingredients like avocado and basil.
Encourage your kids to "taste" foods, rather than to "try" foods. The word "taste" is exploratory and fun. When we have a new food at our table, we all taste it together and talk about it.
When cracking eggs, set out two bowls: one small bowl to crack each egg into and one for the eggs to get transferred to. It's a lot easier to fish out shell shards from one egg at a time!
Here are some great books about food and cooking with little kids: Foodie Babies Wear Bibs, by Michelle Sinclair Colman; three books by Lois Ehlert—Eating the Alphabet, Planting a Rainbow, and Growing Vegetable Soup; and To Market, to Market, by Nikki McClure.
Kacie McMackin is a food writer, blogger and photographer, and founder of gorgeinthegorge.com.