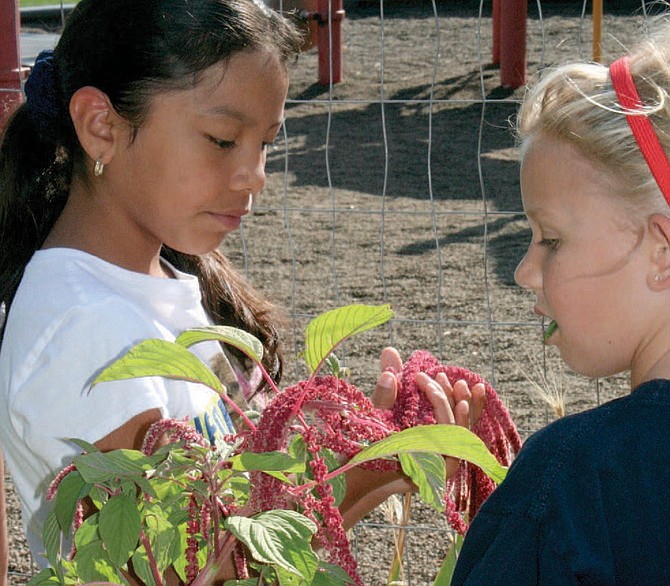 The small, brightly-lit school cafeteria was filled with the buzz of lunchtime. In the front of the room stood three volunteers with aprons on, serving food to a line of buzzing young students. On the menu this day at Mosier Schools (which includes Mosier Community School and Mosier Middle School) was a baked potato bar, complete with fresh broccoli, cream cheese and even an option for soy bacon bits. For dessert there was fresh fruit. And from the looks of it, just about everyone seemed satisfied.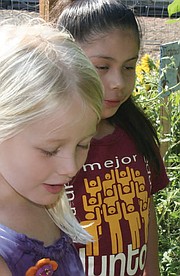 And this was no anomaly. Other menu options, served on a rotating basis, include salmon patties, broccoli, beans and rice, lentil soup, yakisoba noodles and even old stalwarts like pizza. According to Susan Vallie, food service director for Mosier Schools, the goal is to serve whole foods, some of which are sourced from right here in the Gorge—including from the garden adjacent to the school's playground. In order to take advantage of what both the Gorge and the garden have to offer, the menu at the school follows the seasons. "We use a two season menu which can easily be enhanced with what is available," Vallie says.
In some circles, school lunch has earned a reputation for lacking in healthy options—even becoming a satirical target at times. In communities such as Mosier, this is far from the truth. According to Vallie, flexibility—par- tially a result of Mosier's status as a charter school—has certainly played a role in allowing it to be creative in its offerings. "We have 100 percent indepen- dent purchasing decisions," she says. "Whenever possible, we have sourced from local growers directly. As long as we follow the federal guidelines for
a nutrition based meal, we have autonomy." In this, they are able to work within the system but also make decisions that are both healthy and sup- portive of eating locally produced food. "In order to maintain federal meal funding, our overall menus must be approved by the Oregon Department of Education," Vallie says. "But we are free to swap out mixed green salad for kale from our garden when we have the opportunity."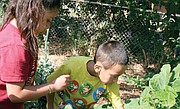 While the garden doesn't yet make up a huge percentage of Mosier Schools' lunch offerings, Heather Clemons, a middle school teacher at Mosi- er who is the acting garden coordinator, can still clearly see the impact its presence has in connecting kids with their food source. As Clemons puts it, "If you were to say we were going to have Swiss chard to a typical elementary school student, they might say 'Ew.' But in this case, since they have picked it themselves, they're running around saying, 'This is awesome.'"
In addition, since one of the primary goals of the garden is keeping kids excited and engaged, there's also what Clemons calls the "big" factor. This means keeping excitement up with crops like sunflowers and pumpkins, while still leaving room for some of that excitement to be around food, planting items for fall harvest such as potatoes. Notes Clemons, "Digging them up is
like Christmas. While our goal is to grow our own vegetables, it's also to get kids' hands dirty and keep them engaged."
While offering healthy lunch options is a vital part of any health and wellness related school endeavor, tying it to classroom curriculum is what helps close the loop. While the garden
itself plays a big role in this—many of the plant starts are grown right in the classroom—there are other ways that Mosier incorporates this as well. "General nutrition education happens in the classroom in a variety of ways," says Vallie,
"whether it's making homemade salsa with local produce, or dried pears which the students picked themselves from a local orchard."
All of these exercises help kids form a lifelong connection to food, its impact on their health and even where it comes from. That was the goal of Melody Acosta back in 2003. A registered dietitian whose children attended Mosier Schools a few years ago, she helped set the program on
the path that it still follows today. "When I first started, the kids were eating peanut butter and jelly sandwiches that came frozen," she recalls. Acosta and a group of parent volunteers decided to take the reins.
"We just did some menu planning and decided it would be economically feasible to cook from scratch and hire a cook rather than
buy the convenience food that was being offered," Acosta says. It took several years of hard work and trial and error, but upon hiring Sharon Kahler as the cook, the program started to take off. Kahler, who retired at the end of last school year, started off slowly, cooking from scratch two days a week, while Acosta, using her knowledge as a dietitian, worked to keep the menu up to speed with school lunch regulations.
As with any big change, there was an adjust- ment period, especially for the students. "It took some training of the children," Acosta recalls. "At first they refused to eat things like brown rice." With the commitment intact, Acosta and her team made the effort to get them involved, something that continues today. "Once tofu was approved as an acceptable school lunch option, we set up a tasting table using different recipes and then had the kids vote," she says. "The win- ning recipe subsequently made it on the menu."
It wasn't just the students who needed convincing. While the parents and school board were both committed, the local district (Mosier Schools is part of North Wasco County School District 21) had some reservations at first. As Acosta put it, "The district told us, 'You won't be able to sustain it financially.' But with the right people in place, we were able to."
In the face of a long time trend among school lunch programs, which have seemingly become more and more institutionalized, with fewer options and a more concentrated supply chain, the recent pushback from some communities has been notable. At Mosier, it's primarily been about parental and volunteer involvement when it comes to making change.
Acosta echoes a familiar lyrical reference when she says, "If you're not part of the solution, then you are part of the problem." She adds, "Any community can start small. One day per week, have soup made from scratch." While it's easy to conclude that smaller school systems and charter schools are in a better position to be creative with their lunch offerings, according to Vallie, that has been of little consequence in Mosier. Even as the student population has more than doubled in the last decade, the commitment to healthy and local lunch offerings has remained. "We grew from 75 to over 200 students with very little change," she says. "We've decided that it's just what we do."
Matt Landi is a food writer who works with Portland-based produce distributor Organically Grown Company. He lives in Hood River with his wife and two children.