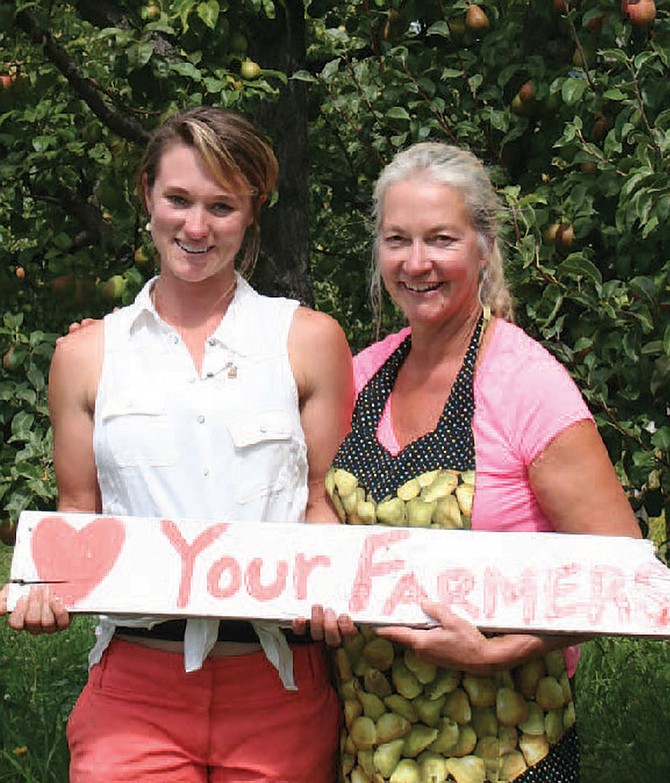 Donna Cody and her daughter, Lisa Perry, operate Cody Orchards Fruit Stand in Odell, which first opened in 2006. The Codys have 180 acres of fruit trees in the Hood River Valley, and Lisa is the fourth generation to be working on the family farm.
Donna, the orchard and the fruit stand are a perfect match. What made you decide to start the fruit stand?
A: I love interacting with people. This was the perfect way to share the fruits of labor with community members, and now with visitors from all over. It's great to see people's reactions when they taste a ripe piece of fruit. That reaction helps make all the work worth it.
Lisa, did you always know you wanted to be involved in the family business? What led you to it?
A: I have demonstrated an interest in agriculture ever since choosing to do a school report on NAFTA (North American Free Trade Agreement) in 2000. That was odd for a 12-year-old. My interest and passion only grew from there.
Lisa & Donna, what is your go-to meal after a long day on the orchard?
Donna: Fresh salsa and grilled vegetables, maybe sliced bread or crackers to soak up the juices. Leftovers. I cook large meals twice a week and have wonderful leftovers during the busy season when we work seven days a week.
Donna, I understand you are a master food preserver. What are your favorite items to preserve?
A: I took the Master Food Preserver course in 2013 and grew up canning. After the MFP course, my favorite preservation method is fermenting. I love to ferment anything: kim-chi, kombucha, pickles, etc. I love making fruit but- ters because they require less sugar. Pear Butter is my favorite!
Lisa & Donna, you encourage eating locally, but are there certain foods you can't get locally that you enjoy?
Donna: I love citrus, but I have found that I can substitute pears for any recipe that calls for citrus.
Lisa: Avocados
Lisa & Donna, what summer produce do you think is under-appreciated and why?
Lisa: I think people love summer produce. But I feel the purchases are more for one tomato for one sandwich. One peach for a snack. I think creating whole meals from what's seasonal is not appreciated. When you buy one zucchini, buy a bushel of tomatoes, a handful of herbs and simmer sauce for a memorable meal. The whole summer's bounty should be enjoyed in harmony. Taking the time to freeze or preserve summer's flavor can lead to appreciating summer produce during the winter! Also, I don't think too many people appreciate the work that's involved in producing all the great summer produce. Many people are disconnected with how much labor is needed to produce all of this food that we enjoy.
Lisa & Donna,what might people be surprised to find in your kitchen?
Donna: Spam. That's for my husband, Glen.
Lisa: I repurpose everything. Guests are surprised by all the ways I can find a new life for disposable items.
Lisa & Donna, what are some of your must-have meals when you two get together with family?
Donna: Dancing Chicken, a pear salad, and a seasonal pie for dessert.
Lisa: I love to highlight what's in season. For example: Eggplant lasagna in the summer, or winter squash soup in the winter.
Is there an easy family recipe you'd like to share with readers?
PEAR SALAD
Your choice of mixed greens, chopped pear, a red pear for color
1/2 cup Gorgonzola, or your choice of cheese. Your choice candied nuts (see recipe)
Mix the ingredients.
Drizzle the balsamic dressing (see recipe) before serving
Candied Nuts
1/4 cup butter, melted
2 cups hazelnuts or nut of choice 1 tbsp Tabasco sauce
1 tsp salt
1/4 cup sugar
Combine butter and hazelnuts in pan and cook about 5 minutes. Add Tabasco, salt and sugar. Turn heat to low and cook an additional 8 minutes. Remove from heat. Cover a cookie sheet with foil. Put cooked nuts on a rack on top of a cookie sheet so coating drips onto foil. Chop nuts after dry
Balsamic Vinaigrette
1/2 cup olive oil 1/4 cup vinegar
1 clove minced garlic 1 tsp sugar
1 tsp salt
Whisk all ingredients until blended