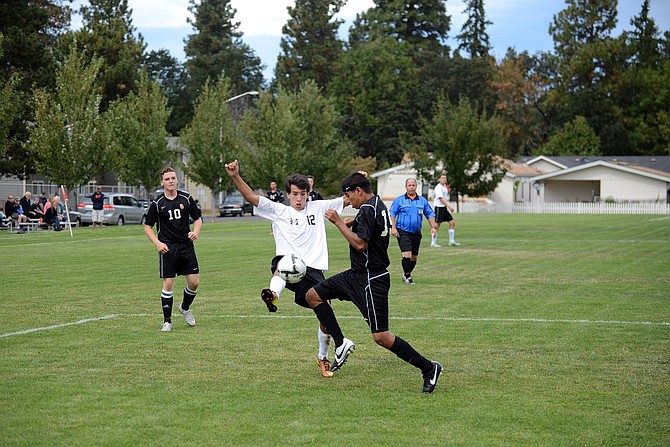 Horizon Christian School's co-ed soccer program had a successful season last year, finishing with an 8-1-1 record in 3A/2A/1A Special District 6 and advancing to the state title game.
And while it would it be great to return to the state championship game again this season, what the program's coach, Oscar Stenberg, wants most for his athletes to accomplish this year is to better themselves as soccer players, and even more importantly, as teammates.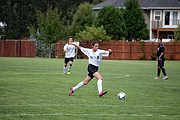 "Improve with each game," he says when asked of the team goals for 2015. "Become a true team."
This year, the Hawks' program will field a total of 23 players: 18 boys and five girls. The team will be captained by senior striker Salvador Ramirez and senior midfielder Kameron Brown, although Stenberg says he expects big contributions from all his seniors, as well as "some very good juniors, sophomores, and freshman" on his roster who will also be playing key positions this fall.
Horizon's season began in earnest Friday with a non-league match against Santiam Christian that ended in a 1-0 loss for Horizon, with the lone goal coming off an Eagles' penalty kick.
"We have to find the net. We outshot the opponent 12-3. We missed a PK. They made their PK," said Stenberg about the game. "We had some very good moments. We controlled it 60-40 — all our players played and gave a great effort."
Stenberg said at that 1A level, it's sometimes difficult to know what talent Horizon may be facing from year to year. Stenberg pointed out that the team that Horizon lost to on Friday — a 3A school — got beat by Crosshill Christian, who Horizon will face this year at the 1A level.
Due to the size of Horizon's league — which this fall features C.S. Lewis Academy, Crosshill Christian, North Clackamas Christian, Southwest Christian, Umpqua Valley Christian, Central Christian, Damascus Christian, Livingstone Adventist Academy, and Open Door Christian Academy — the Hawks' nonleague part of the season is made up of just three games. Horizon will travel to Trout Lake on Monday to face the Mustangs and then host Life Christian on Thursday at 5:30 p.m. for the final non-league game of the season.
That game will hold special significance for Horizon, as Life Christian was the team that snuck from behind to take the state title last year after trailing the Hawks 2-0 at halftime. Life Christian ultimately won, 3-2.
The Horizon Hawks plan to be ready for that challenge and any others they may face this season.
"(I'm) excited about the potential for this team," Stenberg said. "They have worked hard to get in shape and for the most part play well together. We are trying to find a combination that works well together."