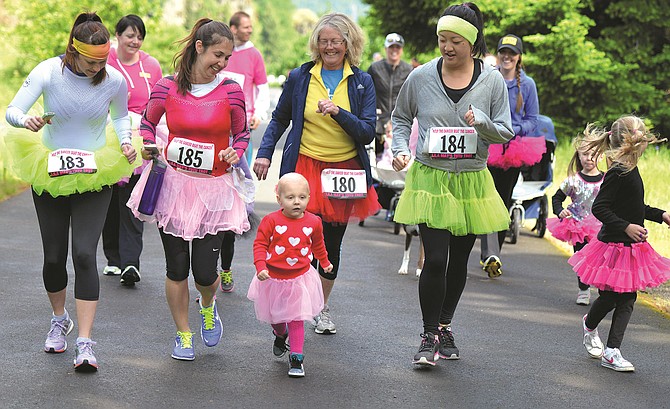 Lila May Schow, who made the tutu into a Hood River fashion standard, died on Sept. 12, just weeks after her fifth birthday.
Lila May's long list of interests included swimming, ballet and riding horses. During the painful, but active, last three years of her life, she would dance, run and ride through her cancer journey. Her illness and treatments never seemed to hold her back for too long, as Lila May continually found new sources of strength.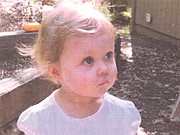 At the Tutu Trot in May, it was no accident that a song with the words, "I get knocked down, but I get up again" would play just before the run.
"Our sweet, sweet Lila is gone. She left us at 5:15 yesterday," her mother, Heidi Hall, posted on Facebook. "It was not the peaceful ending we had hoped for, but she is at peace now. My heart is shattered into a million pieces. There is no pain on earth that is worse than this. The world will never be the same without her beautiful face here with us…"
Lila's neuroblastoma worsened in recent weeks, but at her last public appearance, her fifth birthday prom on July 31, she danced with her father, Ryan, and her stepdad, Blake, and was the center of attention at the social event of the summer, with 600 people attending.
She would face a camera and briskly instruct a friend "one more" so that she could stop posing and go hang out with her fellow tutu-wearing friends. Lila May would sit astride a horse with her sister, Mia, and cheerily fend off adults' worried hands, saying, "I got this!" as she rode around the corral.
When Lila May ran, she ran like any youngster: head down and tongue poking from the corner of her mouth. When she stood still, she would look up with her round, expressive eyes and listen to who was speaking with an in-the-present attention.
Nearly a dozen surgeries and dozens of chemotherapy treatments, in Portland and New York, often sapped Lila's strength, but she would rebound for another dance class, another horse ride, another play date with friends.
At events including the prom and at the Tutu Trot fundraisers held the last two springs, the community would come to look upon this blond beacon almost as their own daughter.
Lila May rode in the July 4 parade as co-Grand Marshal in 2014, and will be honored Sept. 19 at the 7 p.m. Pig Bowl event at Wahtonka Field in The Dalles. The fundraiser operates by letting donors buy touchdowns for their favorite team, law enforcement officers from either Oregon or Washington. To purchase pre-game points, go to pigbowl.net and follow the donation link.
The 13th annual Pig Bowl will take place as planned, although organizer Senior Trooper Michael Holloran said he is unsure if Lila May's parents, Blake and Heidi Hall, and her sister, Mia, will be there.
"We hope they come to the game, but we'll certainly understand if they don't," said Holloran. "Either way, we want to bless this family with funds to help pay funeral expenses and medical bills from Lila's treatment."
To send condolences and memories to the family, please visit gardnerfh.com.
On Tuesday, Heidi Hall provided Hood River News with a personal look inside the heart and mind of her daughter, and the family's last moments with Lila. In an email, she wrote:
"Lila died at home, with both her daddies, mommy, aunt Jackie, cousins Kenna and Travis, uncle Joe, grandma and grandpa Kage and Ellen Smith, Grandma Mari, grandma and Grandpa Boyd and Lois Schow, and Grandma Peggy," wrote Heidi . "We all surrounded her at her last breath."
"As her parents, we are trying to remember the good times. It's a devastating feeling to know that we couldn't save her. We tried so hard. Basically we are just taking it one day at a time, crying, laughing, remembering her smiles and laughter. In her final hours, we played her favorite music. Of course Luke Bryan, and a lot of Disney music."
Asked if Lila knew how many lives she had touched, Heidi said:
"I really don't think Lila had any idea how much of an impact she had on the community. I showed her State Street Bear a few different times, and I would read her the stories from people that would send how inspired they were by her. But I think she just thought she was a normal, average kid. She never expected anything more than what the other kids, her friends, had. She was loving going to swim lessons with her girlfriends and looking forward to going to school with Piper Jones, and also going to ballet with Violet Lorenzen. She was planning on being a bat for Halloween and already talking about how she couldn't wait for Christmas to be here. That was her favorite holiday. "