The Phi Theta Kappa honor society at Columbia Gorge Community is asking for help in the upkeep of Hood River campus.
"The Clean Campus Project" is about to get going at the Indian Creek Campus on Hood River Heights on Sept. 24.
The 9 a.m. to noon event will be a kick-off party for what will be a twice-monthly project involving a cadre of continual volunteers who will share in the upkeep.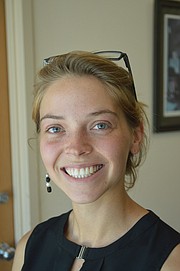 Volunteers will help keep the campus clean, gain team-building skills, receive recognition at the college, and develop community service credentials, according to Bailey McManus of Phi Theta Kappa.
"We're proud of our campus. It has a lot to offer and we want the community to feel as comfortable and welcome there as possible," said McManus, a business student at CGCC who is helping organize Clean Campus Project.
In light of budget cuts at the Indian Creek campus, more volunteer help is needed to carry out typical janitorial duties, according to McManus.
The Indian Creek Campus, built in 2009, is contained in one building with an office, commons and classrooms on the ground floor, and classrooms and a lobby on the second floor. In addition to college classes, the building is often used for public meetings, forums and other gatherings.
Volunteers will receive training and all materials and equipment will be provided. At twice-monthly clean-up events, McManus will be the point of contact for Clean Campus volunteers.
n
Clean Campus will happen on the first and third Friday of every month. For details, call Michelle Cochran, Student Life Advisor, at 503-484-7123.