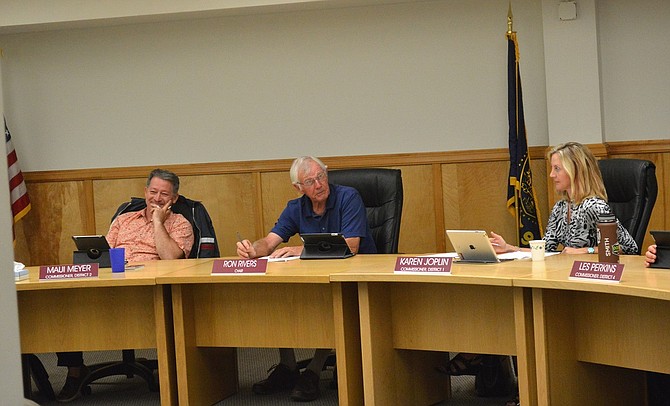 Hood River County has entered an agreement to buy nearly 3,000 acres of forest land from Bingen's SDS Lumber Company for $4.62 million.
The Hood River County Board of Commissioners arrived at the decision after a closed executive session Monday night — the final sale will likely come through by the end of December.
The county has agreed to purchase seven parcels of forest land from SDS, which total 2,887.54 acres.
The largest parcel is 1,520 acres, near Upper Pinemont Drive southeast of Odell. Other parcels include land on the county's northeast corner on Hood River Mountain, a plot on Riordan Hill and four smaller parcels that abut existing county forest land.
The agreement with SDS, which marks the county's first major forest land purchase in a decade, was made possible by the sale of forest land the county owned in eastern Oregon.
"For a long time, we have wanted to sell the forest we owned in eastern Oregon and buy local property, to meet Hood River County's mission," said Hood River County Commission Chair Ron Rivers. "This is an exciting and rare opportunity to buy a large amount of forest land the county needs in the next few decades, and the best part is, it's right in our own county."
Rivers said the county has sold its lands in Grant and Umatilla counties, which were "more difficult to manage from a distance," in order to reinvest in the SDS land parcels.
The county plans to replace 1,016 acres of scenic area forest lands it lost more than a decade ago, with 2,900 acres of new local forest land.
Hood River County Administrator David Meriwether said the county has been negotiating and discussing the land buy opportunity for the last few months.
"The timing was right for both parties," said Jason Spadaro, president of SDS Lumber. "We are happy to see these lands under county ownership to help meet the needs of the board and residents of Hood River County."
Hood River County's public forest currently includes 31,117 acres. Funds from forests make up 40 percent of the county's annual budget.
"It's not every day this happens," said County Forester Doug Thiesies of the forest land buy agreement.
Other business items
Commissioners allocated unused wildfire protection funds to roll over into the county search and rescue program at the end of the 2014-15 fiscal year. The unused $34,199 of Title III will go toward the Sheriff's Office for marine and land efforts.
Commissioners approved an agreement with the Hood River Soil and Water Conservation District to provide water resource planning and education.
Meriwether reported that Clackamas County has joined Hood River County in a land use dispute between Mt. Hood Meadows ski resort and the U.S. Forest Service. Meriwether said the parties are in mediation concerning wetland protections in the area of Government Camp, which the deal "hinges on."