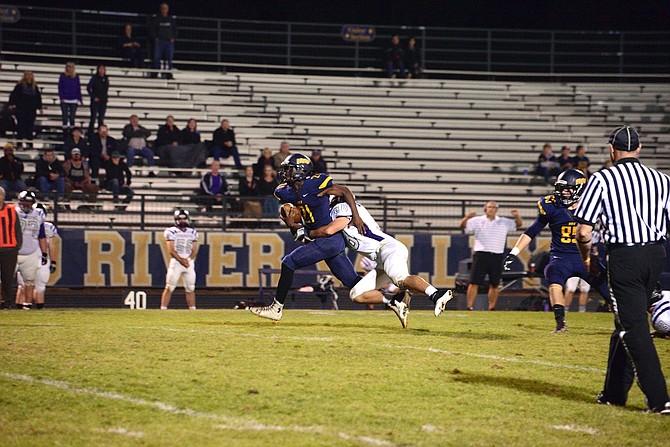 HRV (2-1) had an excellent opportunity to remain undefeated and get a win against the Ridgeview Ravens (2-1) on Friday. Trailing by a touchdown midway through the fourth quarter, the Eagles had an offensive possession and were hoping of converting a scoring drive to tie it up.
Unfortunately for HRV, the drive stalled at midfield and the Ravens capitalized after getting the ball over on downs and scored in the final minute for a 36-22 win over the Eagles Friday at Henderson Community Stadium.
It was a well-played game between two evenly matched 5A teams and the outcome of the nonleague game could've gone either way. At times it appeared that the Eagles were headed towards a victory, which would've marked the best start to a season (3-0) in coach Caleb Sperry's seven-year career.
"Ridgeview played a great game and they did a good job of capitalizing on their scoring opportunities," said Sperry. "I think we just played very undisciplined and there were some big plays when we made costly penalties at inopportune times that hurt us. We came out and had opportunities to score and we just didn't execute when we had good field position. Playing against a good team like that, they were able to limit the amount of time that we had on our offensive possessions. When you have the ball, you have to do something with it and we didn't do that."
Ridgeview received the game's opening kickoff from Hood River, but it was the Eagles who had the first good scoring opportunity of the game. Defensive back/receiver Tyrone Stintzi intercepted a pass thrown by Ridgeview quarterback Brett Blundell and returned it 21 yards to the Ravens' 41-yard line. However, the Eagle drive stalled as they got to the eight-yard line, and Ridgeview took control of the ball following a failed HRV fourth down conversion attempt.
Ridgeview went up 7-0 with 10 minutes, 46 seconds left in the second quarter. Ravens running back Brent Yeakey (29 carries, 272 yards rushing) scored on a 30-yard TD run, as well as booted the extra point.
The Eagles were unable to slow Ridgeview's ground attack (431 total yds. rushing), which was spearheaded by big offensive linemen Chris Steffey (6-foot-5, 285 pounds), Cruz Christiansen (5-11, 315 lbs), Gregory Connor (6-3, 430 pounds) and Gabriel Garcia (6-0, 350 lbs.). The quartet repeatedly opened holes for their running backs to run through the Eagle defense and gain positive yardage on a number of big offensive plays.
HRV responded on its third possession of the game, which was setup by a 72-yard kickoff return by Kellan Duffy to the Ravens' 13-yard line. Four plays later, quarterback Dallas Buckley (nine carries, 42 yds. rushing) scored on a two-yard touchdown scamper and Manny Valdovinos kicked the extra point, tying it 7-7 with 9:07 on the clock.
The Ravens quickly answered to regain the lead after scoring with 8:05 left on the clock for a 15-7 advantage. On their ensuing possession after receiving a Ravens onside kick, HRV took control at its own 39-yard line. A 14-play, 61-yard drive included a 17-yard Buckley completion to receiver Montana Kurahara and an 18-yard pass to receiver Kiel Sorenson (three catches, 60 yards receiving).
"We had some scoring opportunities that we just couldn't capitalize on," said Sorenson after the game. "Some penalties and turnovers also hurt us at key times during the game. They (Ridgeview) certainly had a little more power in their offensive scheme than we expected. They pretty much used the same formations most of the game and for about 80 percent of the time, we just couldn't stop it. There running backs usually gained a few yards on every play and I think that kind of hurt us."
Buckley (16-for-30 passing, 186 yards) capped the drive with an eight-yard TD pass to Stintzi (five catches, 55 yards receiving). A two-point conversion run by running back Michael Jones (12 carries, 57 yards rushing) knotted the game 15-15 with 2:15 left until halftime. Ridgeview again quickly responded with a touchdown with 1:10 left to build a 22-15 halftime advantage.
"I felt confident when we went into the fourth quarter tied up, but then things just didn't go our way," said Jones. "We just have to figure out how to bounce back and play with a higher confidence level for the entire game. We have to remember our goals and the tasks we have and keep that in the back of our minds and just try to play mistake free football. I think we were a little frustrated at times, but if we just continued pushing hard the whole game, then I think we could've won. Overall, we played pretty well."
HRV gained possession at the outset of the third quarter after getting an onside kick from Ridgeview and taking control at the Eagle 45. A four-play, 55-yard drive was highlighted by Buckley's 26-yard run to the Ravens' 23. Buckley capped the drive with a 31-yard TD pass to Sorenson and Valdovinos kicked the PAT for a 22-22 deadlock with 10:35 left in the third.
HRV had a chance to take the lead after a big defensive play when the Eagles thwarted a fourth down Raven conversion attempt. HRV gained possession at its own 31 after getting the ball when the Ravens turned it over on downs to the Eagles. The Eagles appeared headed towards a go-ahead score with a 40-yard drive that reached the Raven 29 after a 15-yard Michael Jones scramble.
However, in what was a key turning point of momentum in the game, the Eagles fumbled on their next play and Ridgeview recovered the ball at its own 28 with 3:29 left in the third. It was scoreless the remainder of the quarter and the teams went into the fourth still knotted up 22-22.
"We definitely had a chance to take the lead at that point of the game and if we would've avoided that fumble, then I think it might've been a different outcome," said Sperry.
The Ravens then scored a go-ahead touchdown with 9:07 left in the fourth for a 29-22 lead. On their ensuing possession, HRV had a chance to proceed downfield for a possible tying TD. The key drive stalled at Hood River's 49 though with 7:24 left in the game. A Ridgeview touchdown with 48 seconds left concluded the scoring and helped ensure the Ravens a win.
"We'll try to learn from our mistakes and try to get better and go out and play tough and hope to get a win on Friday at Redmond," said Sperry. "All of our goals are still intact, but we just have to make sure that we improve some things that have hurt us. Our goal every week is to win. We have a game plan and we'll have a good week of practice to prepare for Redmond. They'll be a tough opponent for us and it will be a challenge for sure."
Ridgeview outgained HRV in total offense 435 yards to 288. The time of possession was nearly equal as the Eagles had the ball for 23:49 and the Ravens had control for 24:11. The Eagles however, had possession for just 5:34 in the second half at the most critical time when the game was on the line.
Hood River (No. 26) will try to bounce back and get a win in its next game on the road Friday at 7 p.m. against the No. 15 Redmond Panthers (2-1). The Eagles are hoping to have a different outcome than they had in a matchup between the two 5A teams last year, when Redmond won 49-27 in Hood River.