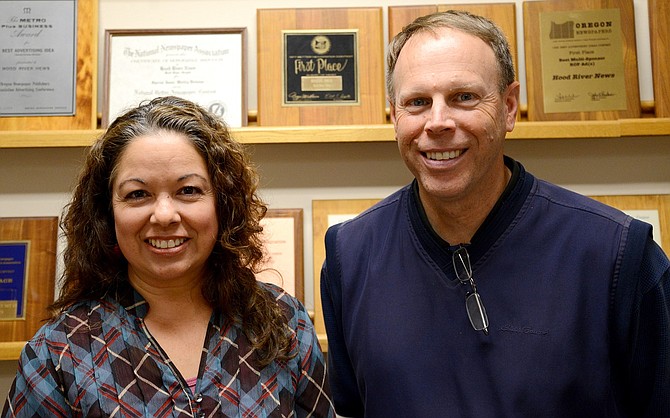 Chelsea Marr has been promoted to publisher of the Hood River News, company President Joe Petshow announced this week.
"Chelsea has been handling day-to-day operations at the News for nearly two years as general manager," Petshow said. "When she was hired here it was with the intent of someday promoting her to publisher.
"Everything she and her staff have accomplished these past two years has reinforced the fact that that was a correct intent — so to speak."
Marr, 46, came to the News from The Dalles Chronicle, where she worked for 18 years, most recently as general manager. She and husband, Dan Stelma, have been Gorge residents since 1993. Marr serves on the Mid-Columbia United Way Council and is active in her son Wyatt's elementary school. She is a downhill and cross country skier, and loves to hike and cook.
"I taught myself how to can this summer; that's my newest endeavor," Marr said. Her interest in cooking helped provide an impetus for starting the Savor the Gorge magazine this year.
Marr also enjoys yoga, daily walks with her dog, Oliver, a Labrador mix, exploring new restaurants with her mom (who lives in The Dalles) and family trips to the Oregon coast, where Wyatt loves to surf.
Marr said, "I'm excited to continue to serve the community of Hood River. The News, as a voice of the community, represents a variety of opinions. Yet, as an accurate record-keeper for the county, we need to represent all sides, fair and equally, as much as possible.
"The soul of a newspaper, and how it thrives with the support of the community it represents, is amazing. My goal is for The Hood River News to remain a viable voice for our residents."
Hood River News is a part of Eagle Newspapers/Eagle Media Northwest, which also owns The Dalles Chronicle, White Salmon Enterprise, Columbia Gorge Press and The Gorge Magazine.
Petshow will continue to maintain an office in Hood River, where he directs Eagle's news, printing and mailing operations in three states. Eagle has its corporate office in Salem, and also has news and publishing businesses in Washington and Idaho.