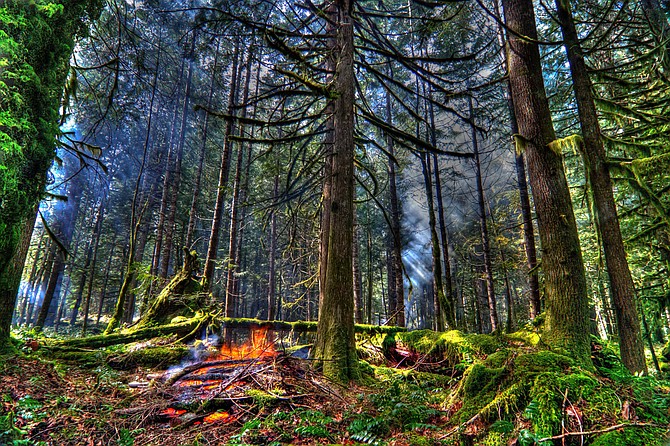 The Hood River and Barlow Ranger Districts of the Mt. Hood National Forest will be carrying out fall prescribed burns as early as next week and continuing into October with pile burns.
Residents living on the east side of Mt. Hood can expect to see smoke in the air for a few days following ignition. Burns could begin as early as next week if conditions are appropriate, the Forest Service said, and pile burning generally begins after a strong rain. Both types of prescribed burning operations could take place anytime during the next month or so depending on conditions.
The planned burn locations are:
Shamrock 1, 180 acres (north of the 44 road, between 4430 and 4440)
Star 3, 103 acres (north of Camp Baldwin off the 4440 road)
Shamrock 3, 100 acres (west of Camp Baldwin along 4440 road)
The Forest Service said fire is a natural part of forest ecosystems, and planned burns can replicate natural fires, unlike human caused blazes.
"When people start forest fires through carelessness or other improper use of fire, it puts undue risk to fire fighters, property, and human life," said the Forest Service in a news release.
"These controlled burns, however, are meant to simulate naturally occurring fire events, and are conducted under extreme supervision and after consulting weather models and much deliberation."
Oregon Department of Forestry explained in a Wednesday, Sept. 23 news release there are two major benefits of controlled forest burns:
Prepare logged sites for replanting of young trees

Reduce fuel loads to lower the risk of wildfires next summer
Unlike wildfires, which occur "under the worst of conditions," ODF aims to only conduct prescribed burns when weather and wind patterns are optimal, in order to carry smoke up and away from communities and popular recreation sites.
ODF's forest planning chief advocated for more controlled burning in Oregon.
"I'd like to see the 200,000 acres of annual prescribed burning double," said Doug Grafe, chief of ODF's forest planning division.
Prescribed burning is already underway in some parts of Oregon, where the fall weather pattern of cooler temperatures and higher humidity has lowered the risk of a burn escaping control, ODF reported.
For smoke and fire updates on Mt. Hood, visit the "Mt. Hood NF" Facebook page, or website. You can also call Kim Valentine, East Zone Fire Management Officer at Barlow Ranger District headquarters at 541-467-2291.