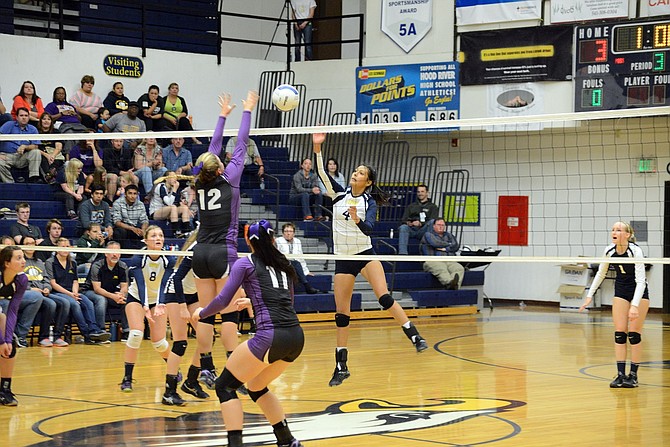 It's only a few games into the season, but the HRV volleyball program has already improved over last year's season.
On Tuesday, the Eagles grabbed their third win of the season with a Columbia River Conference win over Hermiston in a scrappy, four-set game. With that win, the Eagles have already netted the same amount of wins they had in 2014 season and have surpassed last year's CRC record with two league wins this season.
The win marked another milestone: it was the first time HRV had beaten Hermiston in about two years, although at times, it looked like the victory might slip through the Eagles' fingers.
"Too many grey hairs for my liking, but we did get the win…" said HRV head coach, Scott Walker.
The Eagles made sure the Eagles knew whose turf the Bulldogs were on in the opening sets, going up 2-0 after taking the first set, 25-20 and the second by a score of 25-18.
However, for the second game in a row, the Eagles struggled in the third set, which Walker referred to as a "monumental collapse" that ended 25-14 in Hermiston's favor.
"Our third set problems are directly related to our focus in practice and in games," he explained. Before those two third sets at home, the girls were already celebrating. They weren't ready to play the third set."
The fourth set appeared to be on track with the early sets, with HRV at one point leading 23-18. Then, out of a Hermiston timeout, Walker said HRV missed its opening serve and then saw the set slip away as Hermiston scored six unanswered points to make it set point in the Bulldogs' advantage.
"We called time out and the instruction was simple: get the ball back and serve it in," Walker said. "Katie Kennedy tied it up with a kill off the block, 24-24. Shae Duffy served the next ball in and Katie blocked their swing for 25-24. Shae finished the set and match with a great serve that they shanked left and couldn't bring back."
Duffy had a team-high 15 kills and five service aces for the match, outside hitter Kennedy James had 10, and Kennedy added nine. Setter Bianca Badillo had a good match with six kills and three service aces, and libero/OH Rebecca Johnston had three service aces and led the team with 28 digs. Setter Emily Curtis had 27 assists, and Walker said both Lorena Johnson and Badillo "did an excellent job setting limited rotations — Lorena with five assists on 10 attempts and Bianca with four assists on nine attempts."
On Thursday, HRV ran into trouble when it faced The Dalles, who despite the team's No. 7 ranking, could stake claim as currently the best team in 5A volleyball, as they had the best set win-loss record in the state going into Thursday's game (24-2). The Riverhawks improved that record to 27-2, sweeping the Eagles in three sets to go 3-0 in CRC games and take the top spot in the conference (full results not available as of press time).
Despite the loss to The Dalles, HRV still held a No. 13 ranking as of Friday morning — their highest in years. Walker said the team, though young, has talent, and it shows.
"The last time we were ranked this high was probably three or four years ago," he noted. "These girls are young, but they have quite a bit of a high level experience. You know, some of them played on really competitive club teams and they put in some time and effort, so they're young and they still make some young mistakes, but they really know how to play the game. If they learn how to really focus in practice, this could be a really special group of girls volleyball-wise."
After a nonleague tourney at Parkrose this morning, The Eagles will hit the road and play Pendleton Tuesday at 6:30 p.m. and Hermiston Thursday at 7.