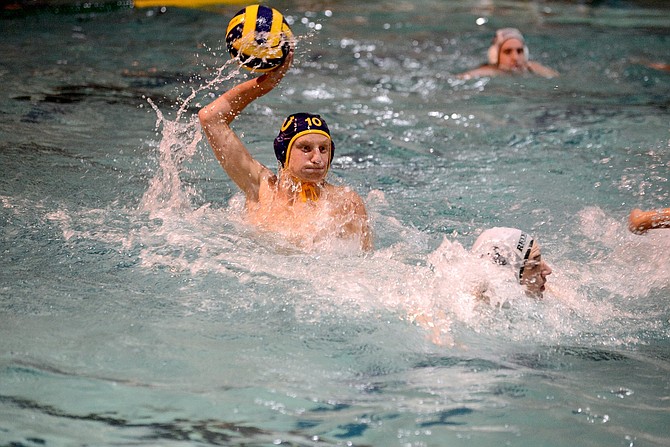 The boys and girls varsity water polo teams have had a solid start to their season, with both squads holding a 2-1 record despite playing all their games on the road.
On Tuesday, the Eagles had their first home matches of the season at the Hood River Valley Aquatic Center — all spruced up and open after its two-week closure for annual maintenance. HRV, however, wasn't able to utilize its home court advantage, with both the boys and girls falling to 6A Reynolds and evening up their records to 2-2.
Reynolds is one of the larger schools that make up HRV's Mt. Hood Conference, which is primarily made up of 6A schools. That can provide more competition, but in the case of Tuesday's match, can cause setbacks as well, according to boys and girls assistant coach David Robinson.
"The fact that we are in the conference that we are, we have the double-edged opportunity of playing up 6A schools… then we get to the state tourney where it's all 5A teams, it does us well when we compete at the state level," he explained.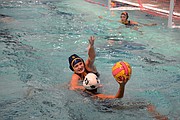 For the girls, the Reynolds team was particularly fearsome, with Robinson noting that the team's starting six played in the Junior Olympics this past summer "so that tells you about their caliber of players."
Making matters more difficult, HRV was down its starting goalie, Kat McElderry, who had a finger injury. The girls were able to hold their own in the first quarter, but Reynolds eventually ran away with it in the last half, and finished the game 17-5.
Robinson said the Reynolds team has a deep bench and were able to get most of its goals by beating HRV down the pool on counterattacks.
"We ended up with a few mismatches," he said. "When you have a player going one-one-one with a goalie, they have a 90-percent chance of scoring and that's not a really good place for a goalie to be.
With the boys, Robinson the game was "a little bit more even-matched," but the end result was the same with Reynolds defeating HRV, 7-3.
Robinson said the game became difficult early on when one of their better players, senior Myles Cameron, got ejected in the first quarter "and that really handicapped us."
Leading the girls was freshman Jamie Robinson, who had three goals, one assist, and two steals. Sophomore Rose Finstad added a goal and four steals, and senior Erin Mayer rounded out the scoring with a goal. The boys scored by committee, with seniors Russel Grimm, Myles Cameron, and Blake Winner each getting one. Grimm and Arthur Finstad each had three steals and Finstad also had an assist.
On Thursday, the boys and girls teams got back on track with dominant wins at Gresham. The girls won 15-7 and the boys won 19-3.
Both teams got out to a strong start and never looked back, according to Robinson.
"The girls' speed and teamwork was the difference early with great movement off the ball, precision passing and smart scoring to go with their signature aggressive defense," he said. "This propelled the team to a large ,early lead allowing us to empty the bench with most starters sitting the majority of the 4th quarter taking the game 15-7.
"The boys outmatched the Gresham team from the starting whistle, jumping out to a 14-2 lead at the half highlighted by the offensive 'play of the night,' featuring an arcing lob pass from JJ Mears at the far perimeter to senior Blake Winner in traffic who went high, handled the ball and scored," Robinson said.
Jamie Robinson led the girls once again with seven goals and had two assists and four steals. Finstad had three goals and assists, Emily Burns scored twice, and Ella Mudry, Amber Kennedy, and Courtney Castaneda each had a goal. McElderry was back in net and had 11 saves. Robinson added that Seniors Payton Rigert and Erin Mayer "defensively tag-teamed the best player from Gresham," and helped HRV to the win.
Sophomore Cole Rothman led the boys with five goals, Grimm had four goals and an assist, Finstad had three goals and two assists, Winner had two goals, an assist, and a steal, frosh Chad Klaas had two goals, an assist, and two steals, and Cam Marquez, Myles Cameron, and JJ Mears. Robinson said junior keeper Adam Cameron "successfully defended his goal, regardless of what was thrown at him and added two pool-length assists."
HRV hosts Sandy this Tuesday, with the girls varsity game starting at 5:30 p.m. and the boys at 6:30.