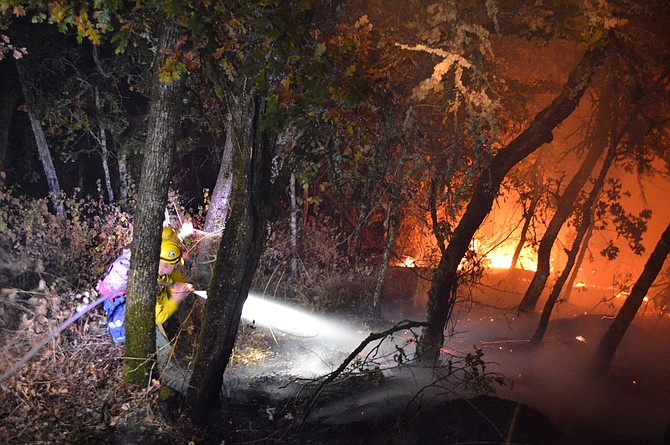 Monday, Sept. 28, 11:26 a.m. Update:
Hood Fire Department reports power outages are coming to residents near the Indian Creek fire. Here is the update:
Power will be shut off! Fire crews are continuing to fight tough terrain and difficult fire conditions on the Indian Creek fire.
The outage will affect an unknown number of residents in the Hood River area. The fire is approximately 2.5 acres in size and is burning in the steep brush below the Indian Creek Trail (which remains closed). Structure firefighters are in place as a precaution and wildland fire agencies are providing suppression efforts.
A helicopter has been ordered to assist in the suppression efforts. As part of this effort, the power lines that run through the fire scene will be shut off to eliminate the hazard to the helicopter and ground crews."
Indian Creek Trail fire
Firefighters continue fighting the Indian Creek fire Monday morning, after controlling the portion of the blaze on the south side of the creek Sunday night.
A pall of white smoke hung over downtown Hood River on Monday, the result of a new push by the fire after morning sun warmed up the fuels and down-canyon winds fed flames and hot spots on the north side of the creek. Additional personnel and engines are being staged at Third and Pine and other locations, said Hood River Fire Chief Devon Wells.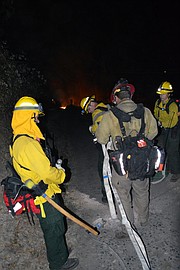 The fire, which was estimated at 1.7 acres early in the morning and grew to about 2.5 acres, is all downhill of the Indian Creek trail, and no structures are threatened.
Indian Creek Trail remains closed.
Hood River, West Side, Cascade Locks, Parkdale, and Wy'east fire departments all responded Sunday, along with Husum and White Salmon departments, and Oregon Department of Forestry crews, who with local department volunteers ran hundreds of feet of hose down the trail, starting at the Fifth Street and Seventh Street dead-ends, as well as from Third and Pine. The hoses were fed by engines and hydrants.
Wells said the cause of the fire is still unknown.
The fire broke out at about 7:15 p.m. last night, according to a report by the Hood River County Sheriff's Office. Hood River Fire Department responded to the fire at the eastern edge of the Indian Creek Trail, which runs in a Northeast to Southwest direction through part of the city limits.
The fire site is very steep ground with heavy brush. Fire crews are stationed in Hood River neighborhoods in the event the fire becomes a threat to structures in the area.
Hood River County 911 sent an emergency notification via reverse 911 to affected residences in the area. At this time, there are no immediate threats to residences or other buildings.
"Conditions are favorable for firefighters with high humidity and little to no wind," HRCSO reported.