The Hood River Valley cross country program kept building on its stellar start to the 2015 season with numerous standout performances at the Nike Portland XC meet (formerly known as Nike Pre Nationals) on Saturday — a race that draws some of the top cross country runners from the West Coast.
Once again, the boys placed first overall, winning the hyper-competitive Division I meet, edging Liberty-Issaquah from Renton, Wash., 105-112. Equally impressive was that nearly every member of the boys' team set a personal record, including HRV's lead runner, Justin Crosswhite, who ran the 3.1-mile race in just under 16 minutes — a huge milestone for any XC athlete — and placed third overall.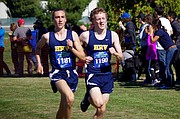 "He's been working all year to go sub-16," said HRV coach Brandon Bertram.
The girls didn't fare as well as they have in their other meets this season, entering the Division II race and finishing in ninth place overall, as the team struggled with health issues.
"Everyone was sick," said HRV captain Lauren Robinson. "It didn't go as planned."
Bertram agreed with Robinson's assessment, but noted there was plenty of commendable performances — regardless of race times or finishes.
"The boys all avoided it somehow, but the girls all sounded like they had stuffed noses," he said. "Trying to get (the girls) to avoid that distraction was a challenge and it's something they can grow with, but I was impressed with how they prepared for the race and how they got to the line."
Despite the ailing Eagles two of the team's seven runners managed to hit personal records, including Daisy Dolan, who went sub-20 with a time of 19:49.93 that was good for eighth overall and first for HRV.
"Daisy Dolan finally broke 20, which is cool for a girl and it's her first time doing that," Robinson said.
Bertram was also impressed.
"Daisy Dolan must've had Teflon, because she sounded sick and had the race of her life," he said.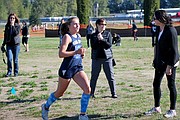 Also setting a personal record was sophomore Natalie Lapierre, who ran a 22:30.51 that put her 76th overall and third on HRV.
"She's so mentally strong when she races," Bertram said of Lapierre. "This is her first year running cross country; she started running in June and she just keeps pushing forward."
The boys had their most solid all-around race this season, with Crosswhite, Quinn Fetkenhour, and Jesse Wiley all landing in the top 10, and with Jacob Bromham and Connor Truax landing in the top 50 of the 128-person race. Almost every runner on HRV went sub-18. The course was flatter than other meets HRV has encountered this season, but Bertram said that didn't make the course an easy one.
"Their times are legit and it's a challenging course," he said. "They definitely brought their A-stuff on Saturday."
For Bertram, the most encouraging part of the boys' race was how they finished, picking apart other schools' packs with a final kick.
"The boys won that race in the last 400 meters," he said.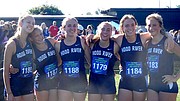 Another bonus: at the end of the race, HRV wound up miles ahead (figuratively) of Columbia River Conference opponent Pendleton, who finished 17th out of 18 teams.
HRV now turns its attention to the George Fox XC Classic that will be held north of Salem on Oct. 10 — a meet Bertram expects will be even more competitive than the Nike meet. As the boys train for that meet, Bertram wants them to enjoy their success, but to be wary of complacence.
"Be happy with what you have, but don't be satisfied," he cautioned.
After Saturday, the girls are in a slightly different situation, but Robinson likes where the team is at so far this season.
"I think we're doing really well. The boys are getting better and better and up until Nike, the girls were on the same course," Robinson said, adding that she expected the girls to be back in form for the next meet.
Bertram expected the same and is looking forward to the George Fox meet.
"The next opportunity will be in a couple weeks when we can show people who we really are," he said.
The George Fox XC Classic will be held at the Willamette Mission State Park (Brooks) in Gervais, a course that Robinson referred to as a "PR course" that the team is looking forward to running. The girls varsity gold race goes off at a fairly late time for a weekend cross country race — 4 p.m. — and the boys varsity gold race is the last event of the day, starting at 4:30.