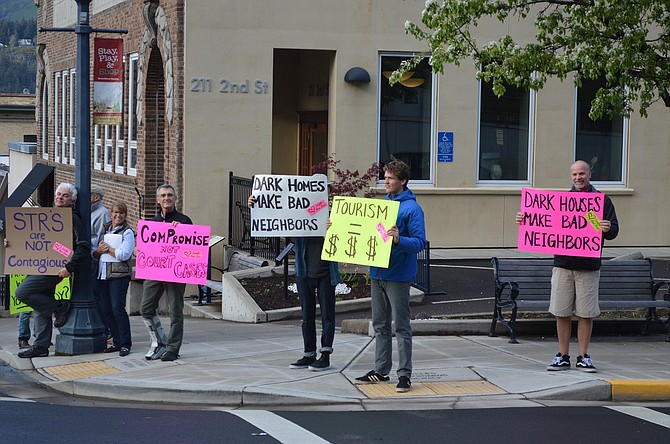 The protracted and controversial work of short term rental (STRs) regulations moves from the appointed Planning Commission to the elected City Council.
The commission wrapped up the continued hearing on STRs Monday, voting to send the package of proposed code amendments to City Council. Council can choose to adopt, revise, or reject the commission package.
The STR work is the first phase in the city's attempt to deal with the issue of affordable housing; studies including the city's 2015 Housing Needs Analysis suggest that the increasing number of STRs in the city has a negative impact on the supply of dwellings available for rent on a long-term basis. The city is tackling the STR regulations before moving on to the zoning and land use changes also intended to expand the number of available rental units.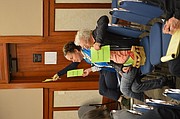 Council meets in special meeting today at 5:30 p.m.at City Hall to look at other aspects of affordable housing, but will not act on STRs. However, Planning Director Cindy Walbridge said staff will give council a verbal report today on the commission's STR code amendment proposal.
Council will take up the STR code amendments at its April 11 meeting, and Walbridge told the audience Monday, "feel free to open your comments back up again." The commission heard extensive verbal testimony and received thousands of pages of written testimony prior to closing public comment March 16 so it could move towards a decision as part of the hearing schedule.
On Monday, the Planning Commission made a variety of changes to the city code amendments it had instructed planning staff to write up last month following the first hearing on STR regulations.
The code amendments affect the use of home areas zoned residential; amendments do not affect commercial areas.
By a split vote, the commission expanded the number of days that a property can be used per year as a short term rental. The proposed code changes had it at 60, and by 4-3 vote the panel expanded it to 90. Commissioner Casey Weeks pointed out that this matches the summer vacation period that a homeowner might want to spend traveling and rent out their house.
"I think it's fair," Weeks said. He was joined by Jodie Gates, Irving and Nikki Rotan in supporting the extension; Will Smith, Victor Pavlenko and chairman Nate DeVol voted for staying at 60.
After extensive discussion, the council also voted to allow long-term renters of a property to sub-let the dwelling to short term renters, as long as it is done with the building owner's permission.
"My intent is to drive up available long-term rentals. This doesn't look any different than what we have today. It accomplishes nothing," Pavlenko said.
"I do feel like this may perpetuate the status quo," Gates said. "We've seen the testimony for how hard it is to find long-term rentals."
City attorney Dan Krause said, "As long as both (owner and long-term renter) agree, it may be all we can require."
The hearing drew about 70 audience members, a third the number in attendance when the hearing was opened last month.
About 25 people gathered outside City Hall holding signs such as "Tourism = $$" and "Honk if you have ever stayed in a vacation rental."
The protest was staged by members of the pro-STR group "Loveable Hood River," a counter to the group known as "Livable Hood River" formed in 2015 to advocate in favor of increased controls on short term rentals. Supporters argue that STRs provide an affordable, convenient alternative for visitors to the area, that homeowners depend on the ability to do short term rentals to pay for their real estate investment and state that with increased STR controls, some homeowners will choose to keep their homes dark for months out of the year.
The commission also debated lengthening from five to 10 years what is known as "amortization," in this context the number of years a home currently used as an STR can continue to be an STR without coming into compliance. After a variety of motions were either voted down or died for lack of a second, Commissioner Bill Irving's simplified 10-year motion was defeated 4-3. By the same vote, the panel later decided to stay with the proposed five years.
According to Krause, some period of amortization is needed to avoid legal actions over "takings" — in which a property owner could argue that regulations limiting their ability to accrue rental revenue are a violation of constitutional property rights.
"People want to recoup their investment in the property as a vacation rental, and as an alternative to 'you must compensate me now,' you need to build in that eventual conformance," Krause said.
Asked about current vacation rentals that are not in compliance with the proposed changes, Krause said, "I'm, not willing to say they are illegal today. The most I'll say is they're not unlawful today."
The commission also voted to include, with the code changes, an instruction to staff to develop a hardship clause for property owners to ask for more time or exemptions to gain conformance. The commission agreed that non-conformance would be based on updated limitations and requirements on the number of occupants and rented bedrooms as well as a revised formula requiring off-street parking for all tenants.
The commission also voted to affirm the staff's suggested time period for determining which STRs are not in conformance: Jan. 1, 2013 to Dec. 31, 2015, rather than the previously suggested "three years prior to adoption," since that verbiage would leave the application period open to dwellings not currently used as STRs.
At the end of the meeting, Irving was the lone vote against the overall changes, which passed 6-1. Irving had argued throughout the hearing for more flexibility to STR owners, including "eliminating non-conforming uses with change of ownership."