OSU Extension's Community Meals and Cooking Class is entering its fourth month, and has proven a popular way to not only fight food insecurity in the Gorge, but teach cooking and nutrition.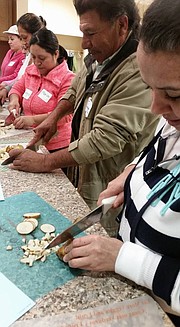 Held every second Monday of the month at the new FISH Food Bank location on Tucker Road, these bilingual and bicultural classes have typically drawn between 30-40 people, said Lauren Kraemer, OSU Extension Service instructor. The meals and the classes that follow are a partnership between Gorge Grown Food Network, Gorge Ecumenical Ministries (GEM), FISH Food Bank, One Community Health and OSU Extension.
This month's meal and class takes place Monday, April 11 — dinner is served from 5-6 p.m., and the class from 6-7:30 p.m., with childcare available — and will feature two recipes: Indian Lentils and Pasta (for vegetarians), and One Pan Spaghetti (for omnivores).
The first four months of the program have focused on a curriculum called "Plan Shop Save Cook," with each class dedicated to one of those topics. Beginning in May, students will focus on the theme of "Cooking Matters," said Kraemer.
"This meal on the 11th and the class will focus on one pot meals, what do you do when it's the end of the week or the end of the month and you have a random assortment of foods in your cupboard," she said.
The classes are designed to help people stretch their food resources and learn to cook from scratch. Kraemer likens it to a "Choose Your Own Adventure" book — using what you have to make an entrée skillet meal (in this case, the spaghetti and lentil dishes), or in a smoothie, which could be a breakfast, snack, or even dessert.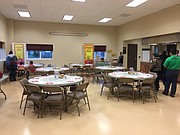 So far, the Extension Office has been heavily recruiting students through the Gorge Grown Veggie Prescription program — which gives $20 vouchers that can be redeemed for fresh produce at farmers' markets and grocery stores — but anyone is able to attend the meal and class, regardless of income level.
"We really want to make sure people understand it's open to the community, so we'd love it to be recipe sharing and trying new foods," Kraemer said of the program. "But we would also love for anybody to feel welcome to come and just enjoy the night and not have to cook."
Current estimates report that one in three people living in Hood River County are classified as "food insecure," although Kraemer notes it could be higher.
"Our original goal was to illustrate that food is something that can unite all of us, even if hunger can divide all of us," Kraemer said, "and also to show that hunger can affect a lot of people. If it's one in three (who are food insecure), that's a lot of our neighbors and coworkers."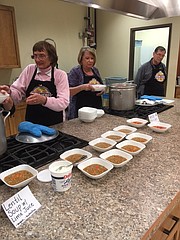 The community meals program "is one step in a bigger piece of that puzzle, and addresses our food system in a proactive way," she said. "We're trying to shift the needle on this and change how people relate to their food and where it comes from, and have more control over that."
The partnerships with the various groups is an innovative concept because the sectors have previously not worked together.
"It's an awesome partnership, reaching across the sectors, from education to health clinics to the food system with Gorge Grown," she said. "… To be able to address food insecurity in this kind of way, it's a new take on how we do our education and outreach."
The program has "partnered heavily" with One Community Health in particular, she noted, who have provided staff to offer the classes in English and Spanish.
Similar classes are also being held in The Dalles on the second Thursday of each month, at One Community Health, 1040 Webber St. Meals also run from 5-6 p.m., with nutrition and cooking classes from 6-7:30 p.m. — and again, all are welcome.
Sponsors needed
There is an ongoing need for program sponsors, said Kraemer, who have so far ranged from church groups to health care providers. Organizations supply eight volunteers to help prep and prepare the meal, and $100 to cover the costs. Those interested in sponsoring a month of the program are asked to call Kraemer at 541-386-3343 ext. 38258 or email Lauren.Kraemer@oregonstate.edu.