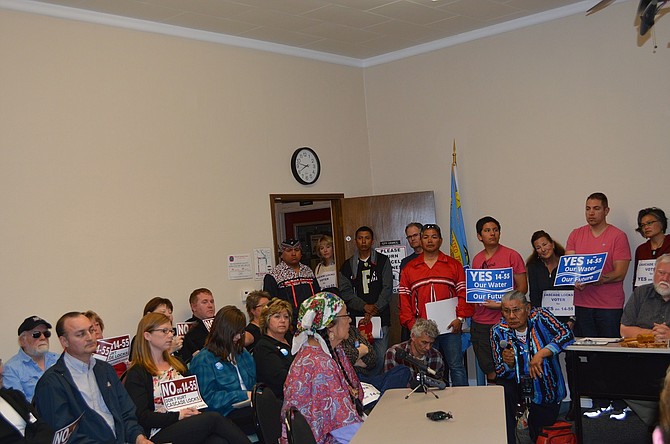 Drums and voices rang out from WaNaPa Street as two sides faced off over a voter measure aimed at water bottling corporations such as Nestlé.
After more than an hour of impassioned testimony — mostly opposed to the city resolution — Cascade Locks City Council on Monday passed a resolution condemning voter measure 14-55, the "Water Protection Measure."
Councilors voted 6-1, with Deanna Busdieker giving the only "nay."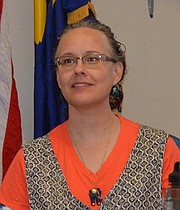 The resolution strikes against the citizen-introduced measure, which would amend Hood River County's charter to ban any business from producing and transporting 1,000 or more gallons of bottled water per day for commercial sale. It comes before voters on the May 17 primary election.
By passing the resolution, the city officially opposed 14-55 as a "direct threat to the city's home rule" and what it termed a damaging blow to its economic future.
Since 2008, Nestlé has tried to build a plant in Cascade Locks, accessing water from Oxbow Spring, which Oregon Department of Fish and Wildlife (ODFW) uses to rear salmon.
Like many recent council meetings concerning Nestlé, tensions flared hot Monday with voices climbing loud enough to drown each other out several times. Council chambers were packed, with several audience members standing in the hallway.
"Water is sacred, not for sale," protesters shouted from the lawn across from City Hall, holding blue signs in favor of 14-55. Tribal drummers sang over an endurance rhythm that continued well into the night.
"Say no to 14-55 — don't hurt Cascade Locks," said red signs fighting the voter measure.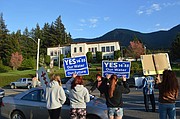 About 20 people spoke in favor of Measure 14-55, with three opposed.
Whitney Jackson, a Warm Springs member, argued the Nestlé water swap and plant would violate treaty rights and harm salmon, as well as tribal fisheries. Referring to the Confederated Tribes' flag in council chambers, she said, "If you (won't) listen, maybe we should take it back."
"It's a shame that all of this energy here isn't going to our downtown and small businesses," Caroline Park, co-owner of Thunder Island Brewing Co., said.
People who spoke against the measure held "No to 14-55" signs, supplied by Coalition for a Strong Gorge Economy.
"This measure is poorly conceived. It's really about local control and Cascade Locks should have their own right," said Brad Lorang, a business owner and Cascade Locks Port commissioner.
Lorang compared water bottling plants to breweries such as Full Sail, arguing the latter would be "shut down" if the 1,000-gallon limit was applied to all businesses.
Measure 14-55's text indicates that it applies to "all water that is labeled or marketed for sale as 'water' in containers including but not limited to plastic and glass bottles, jugs, or similar containers."
Former city administrator Bernard Seeger argued the Nestlé plant would revitalize jobs and support ODFW's salmon hatchery operations.
City Administrator Gordon Zimmerman also presented a video comment from New York children with the eco-group, Earth Guardians, supporting 14-55 and a letter from Floyd Calica, a Warm Springs member, decrying the measure.
The council deliberated over the matter amid a couple interruptions from the audience.
Councilor Richard Randall, who introduced the resolution in March, described the poor employment rates in town and its loss of a high school. He said Council has researched the Nestlé proposal extensively.
"I've been listening to both sides. I don't take this lightly," Randall said.
Councilor Bobby Walker supported the resolution, but expressed reservations about the multinational corporation as a business partner down the road.
"I don't trust Nestlé as far as I can throw them. (But) we're not voting on 'are we opening up the plant?' today."
Councilor Deanna Busdieker gave the only "no" to the resolution.
"The biggest problem I have with this resolution is it says if we don't get Nestlé, we have no economic development. That's kind of a slap in the face to people here like Thunder Island," Busdieker said.
Council passed the resolution with only Busdieker in dissent.
Shortly after the vote, shouting broke out between the audience and council members. Mayor Tom Cramblett ended the cacophony by pounding his gavel and calling for a recess.