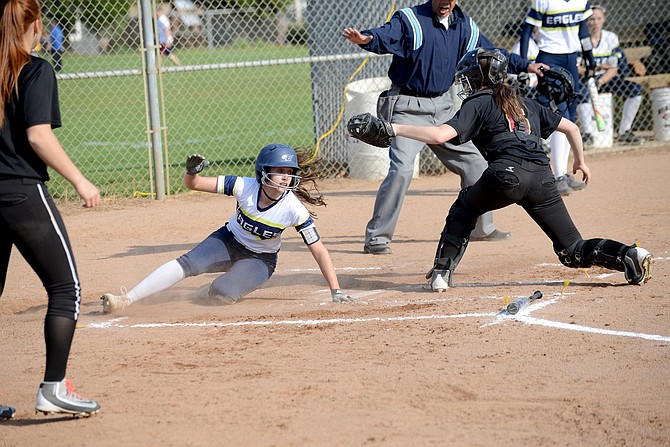 The Eagles softball team has seen some high and low points in a challenging nonleague schedule, which came to an end Wednesday with HRV eking out an eight-inning, 6-5 win over Redmond in Hood River.
The schedule is only going to get more difficult from here on out for the Eagles, who, despite finishing nonleague competition with a 7-6 record and a No. 14 ranking out of the 32 teams in 5A softball, are currently ranked at the bottom of the Columbia River Conference. Pendleton (No. 6, 11-2), Hermiston (No. 7, 8-5), and The Dalles (No. 11, 11-3) have all scored at least 100 runs so far this season — only seven other teams in 5A have. HRV has scored 76 and given up 80 in its 13 games.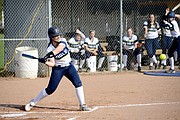 HRV Head Coach Eric Keller knows that CRC play — which starts this Saturday with a noon doubleheader against Pendleton at Westside Elementary — is going to be a difficult road to hoe for the Eagles, but not an impossible one.
"The CRC schedule is going to be a grind," he said. "Every single game is going to require our best effort… it is the most competitive league top to bottom in the 5A ranks."
Keller felt good about the work the Eagles did in their nonleague schedule, though, including a productive spring break trip to Newport for the Battle at the Beach Tournament. Athletes had plenty of playing time and many offered good contributions.
"We were able to use the non-league schedule as a preparation tool. Everyone in the lineup got some experience; we were able to work on various parts of our offense, and we were faced with some challenging competition," he said. "I am proud of everyone taking their role for the game and getting better throughout the nonleague schedule."
HRV players had to work hard to get to their final win of the nonleague schedule in a back-and-forth game with the Redmond Panthers Wednesday night. The Eagles gave up two runs to start the game, but then answered with a pair of their own in the bottom of the first inning thanks to a two-run single hit by Kaylin Winans, scoring Lauren Decker and Madé Vallejo. HRV then pulled ahead in the bottom of the fourth with Haylee Baker scoring off a single hit by Vallejo.
The Eagles seemingly had the game in hand with two outs in the top of the seventh, when Redmond scored three runs to go up 5-3.
Facing a similar situation in the bottom of the seventh with two outs and Zoe Munn on first base, Winans hit a line-drive double to right field to send Munn home. The next play, Hannah McNerney hit her own line-drive double to right field to plate Emily Curtis (pinch running for Winans) and tie the game.
At the top of eighth, Redmond went three up and three down, stymied by the pitching of Decker. With HRV having a chance to put the game away, Lorena Johnson came off the bench to hit a line-drive single to right field.
Two plays later, Baker sent a hard ground ball to center field the allowed Johnson to advance to third. Baker then advanced to second on a throw and bases were loaded after Decker was walked by Redmond's pitcher. With one out and bases loaded, Vallejo hit a ground ball to second base and Johnson tore home to score the game-winning run.
Keller was proud of what he saw as a true team effort in the game, especially coming from the bench. HRV had 14 hits made by seven players. On the mound, Winans started for HRV and struck out 10 batters while walking four and giving up eight hits and two earned runs in a little over six innings. Decker got the win for the Eagles, pitching a little more than an inning, during which she struck out three and gave up no hits or runs.
"We had production throughout the entire lineup offensively. Our pitching stepped up, earning 13 strikeouts," he said. "I was excited to see Lauren (Decker) come in a critical moment and shut down Redmond and give the offense a chance to win the game. Lorena Johnson came off the bench and gave us a great start in the bottom of the eighth and she eventually scored the game-winning run."

After playing Pendleton twice on Saturday in Hood River, the Eagles will travel to Pendleton for a game with the Buckaroos on Tuesday that starts at 4:30 p.m.