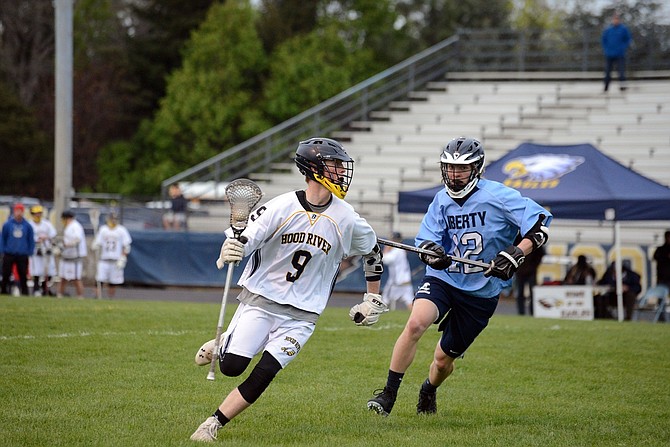 The road-weary HRV boys lax team couldn't have asked for a much better homecoming Tuesday night, crushing the 1-6 Liberty Falcons by a score of 17-5, giving the Eagles their seventh win in their seventh game this season.
In their first game back in Hood River since March 21, the Eagles took some time to get going Tuesday evening, only scoring two of their 17 goals in the first quarter. But a slow start wasn't enough to stop HRV, whose defense held Liberty scoreless in the first half.
"I think that first quarter was just kind of a feel-out quarter," said HRV Head Coach Matt Luchsinger. "We're definitely a slow starting team no matter what… we're definitely more of a second-half team."
The Falcons had possession for all but three minutes in the first quarter of play and was winning both the ground ball and faceoff battles, not offering HRV much in the way of scoring opportunities.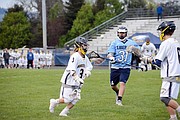 After a pep talk by Luchsinger at the end of the first quarter — following goals from Kiel Sorensen and Cale Brown — the Eagles wrested control of the ball and the game from Liberty, scoring seven unanswered goals to go up 9-0 at the half.
"The second quarter, the biggest change was we started winning the ground balls and possessing the ball," Luchsinger said. "Our attack and middie did a great job riding their team and causing turnovers."
The Eagles also got a big help from goalie Jhett Chrisman, whose unorthodox style of playing far out of the crease and advancing the ball up the field energized the crowd and likely surprised the Falcons. Chrisman made some key stops early in the game and stopped five shots before he was subbed out for backup keeper Mikey Hall.
"Normally we don't really like that with our goalies," Luchsinger said with a laugh. "However, Jhett is a different kind of goalie. He's actually a midfielder at heart… he kind of has a little more free range and with his athletic ability, he can pick up the ground balls and if he doesn't see someone open for a pass, he is allowed to run up the field and create an opportunity."
Up 9-0 at the start of the third, Luchsinger made the decision to rest some starters and put in Hall to finish the game off for HRV. Hall only had one save for the Eagles, but Luchsinger was pleased with the performance of his backup.
"Mikey, he played a great game and stood tall in the second half," he said. "The first two goals (scored by Liberty at the start of the third) weren't through any fault of his own. We came out slack in that third quarter. We left the defense open to have some one-on-ones."
For a team that has had disciplinary issues, Tuesday's game was probably the cleanest all season for HRV, with only two penalties called in the game — both called on Sorensen at the same time in the first quarter.
Brown and Henry Barton have been at the top of HRV's score sheets for most games this season and Tuesday's contest was no different, with both players tallying a team-high four goals. Ben Van Hoose, who Luchsinger said "made some great decisions" in Tuesday's game, scored a pair along with Jackson Lebsack. Other scorers included Torsenn Brown, Cody Wheat, and Bryce Donald. Levi Glass and Russel Grim each scored a point in the game by putting up an assist each.
Almost every player on the HRV roster had a ground ball in the match, but frosh Andrew Gino had the most with six.
"Andrew Gino, that kid comes in and every time he steps on the field, he competed with the big boys," Luchsinger said. "He has a lot of heart and hustle and he'll be replacing (senior) Alex (Ellifritz) next year, so it's great that he's playing under him."
After Tuesday's game, Luchsinger had his team start preparing for what he expected would be HRV's toughest test of the season — the 6-4 Sherwood Bowmen, whom the Eagles were scheduled to play Friday at 8 p.m. (results not available at press time). Luchsinger has pegged Sherwood as one of the more underrated teams in Oregon lacrosse. Unlike the Eagles, who have played only one team over .500 this season (the 5-3 Sheldon Fighting Irish), the Bowmen have had to play some challenging teams, beating top-ranked Jesuit and recently losing to second-ranked Oregon Episcopal School 4-1.
Currrently, Sherwood is ranked 12th and HRV is ranked seventh out of 50 teams.
"I'm hoping to come out Friday and shock the Oregon lacrosse world for sure," Luchsinger said Wednesday morning, referring to the game at Sherwood
After Friday's game, HRV returns home next Friday to play Nadzitsaga at 7 p.m.