The Hood River County Library Celebrates Shakespeare's 451st birthday with a week of fun events for kids and families.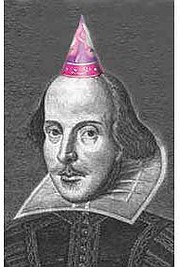 April 19-23 — Memorize a Shakespeare quote for a free book! Quotation bookmarks were made available at the kids' desk starting April 12.
Tuesday, April 19, 5:30 p.m. — Mid-Sentence Night Dream: An abbreviation of Shakespeare's magical play with ongoing interruptions by participants (40 minutes). Drawing for a special prize; make Oberon's magic flowers after the show.

Wednesday, April 20, 3 p.m. — Matinee Movie: Watch "Twelfth Night in charming stop animation (30 minutes). Then write a letter with a real pen and ink, seal and stamp it with wax. Drawing for a prize. Thursday, April 21 — Swordplay Workshop: Shakespeare's stories are famous for their sword duels. Come learn the basics and a scene from Macbeth. Ages 7 and up only, please. Drawing for a prize.
Saturday, April 23, 5 p.m. — Green Show: A traditional prelude to the evening's main performance. Each child receives five gold 'pence to buy the talents, tales and wares of wandering minstrels.
Saturday, April 23, 6 p.m. — Twelfth Night Performance: Celebrate the Bard's Birthday as the Original Practice Shakespeare Festival performs the famous comedy of mistaken identities. Dress as twins (with a friend) for a free prize. More prizes and birthday cake served after the play.