Crossing Bridge of the Gods may become more expensive for tourists this summer.
The Port of Cascade Locks plans to increase toll rates on the bridge through a tiered plan, with Gorge area residents paying the current $1 per crossing, while non-residents pay a boosted $2. The Port Commission hopes to finalize the rules and then adopt them May 5.
The port hasn't settled on what defines a "local" bridge crosser. Options range from residents in Cascade Locks and Stevenson to the full Columbia Gorge National Scenic Area. Decal stickers on drivers' windows and coupon books would show local residency.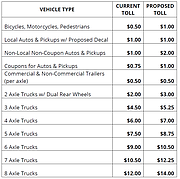 Looming bridge maintenance costs spurred the proposed climb in tolls. The port identified $14 million in upkeep work over the next decade to keep the 90-year-old bridge running at an 80,000-pound load rating.
"It's more of a matter of the port being responsible with the bridge," Port General Manager Paul Koch said of the planned toll increase.
The toll hike will likely kick in July 1, Koch said. An alternate option was September — after the busier summer season — but port commissioners have tentatively settled on the July date. It would be the first toll hike since 2002, when the costs per crossing nudged up by 25 cents.
Amounts aren't final for the new plan, but the rates the port commission presented at public hearings in late spring includes this breakdown:
• Local passenger autos and pickup trucks with decal or coupon book —Stays at $1 (25 cents more than current coupon benefit).
• Passenger vehicles without a decal or coupon book — Raises from $1 to $2.
• Pedestrians, cyclists, motorcycles — Lifts from 50 cents to $1.
• Non-commercial trailers — Remains 50 cents per axle.
• Multi-axle trucks — Higher costs range from $3 for two-axle trucks to $14 for eight axles.
The port held a series of hearings in Cascade Locks and Stevenson to weigh public opinion on the toll increases. Koch said the port got a "lot of good feedback." The highest turnout was about 50 at the second Stevenson meeting.
Speakers acknowledged the need for the port to fund bridge maintenance, but they differed on how high the toll costs could safely be raised and how they should be divvied up. Some people supported keeping local rates cheapest.
However, several business leaders in Stevenson, including Chamber of Commerce Executive Director Casey Roeder, argued the non-local rate was too high — "doubling the toll" — and would harm the budding tourism industry in the west Gorge.
Port commissioners have so far argued the local rate should remain lower that the visitors' rate, identifiable through coupon books or decals.
The port will hold a final work session May 2 with staff to iron out the toll hike plan, then present any changes to the commission for a vote on May 5. Start date for the increase would be July 1 unless commission reverts back to the September phase-in plan.