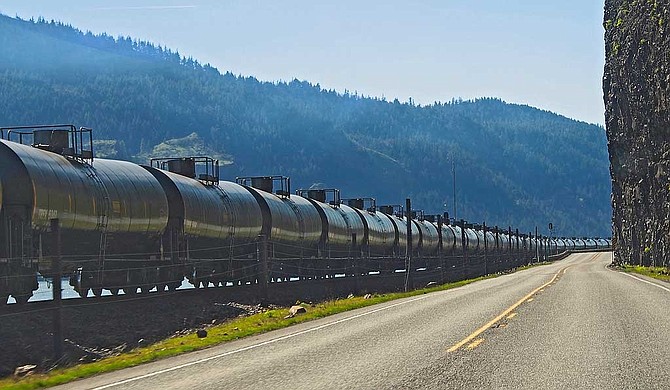 Port of Vancouver officials are giving the company behind a proposed rail-to-marine oil transfer terminal eight more months to secure permits.
The port's board of commissioners voted unanimously to approve a lease extension for Vancouver Energy's proposed oil hub, The Columbian newspaper reported Friday.
The oil hub — planned by Vancouver Energy, a partnership between Tesoro oil company and Savage consulting firm — would handle 360,000 gallons of crude oil per day, which would be loaded onto ships for delivery to coastal refineries. It would increase the number of trains rolling through the Columbia Gorge by an estimated four per day, according to early state studies.
Instead of an Aug. 1 permitting deadline — when costs for Vancouver Energy would spike up — the business partnership now has until March 31 to get through the process that gives Washington Gov. Jay Inslee final say over the project, following the state environmental council's decision.
Vancouver Energy earlier this month asked for two extra years in order to get permits from the state.
Opponents, including Gorge area city officials and environmental advocates, requested the port drop the lease entirely. Mayors of Hood River, Mosier, Stevenson, Washougal and North Bonneville, as well as representatives of Washougal School District and Skamania County Fire District #4, signed a letter to the port making that request.
"We see the project as a direct threat to the beauty, safety and economy of our region," the elected leaders wrote.
The Gorge Commission sent a similar letter, in which Executive Director Krystyna Wolniakowski said, "We strongly support the concerns of the Gorge communities on this critical issue."
A Tuesday port hearing on the terminal's lease amendment drew about 300 people at Clark College in Vancouver.
The Vancouver port's staff recommended denying a lease extension, but the Board of Commissioners voted 3-0 to grant another eight months for Vancouver Energy. The commission might vote on the lease again between now and March 31, the Columbian reported.
The Associated Press contributed to this report.