1916 — 100 years ago
Although the Columbia River Highway is now open and in good shape between Hood River and the Multnomah County line, it will probably not be opened to through traffic before the first of June. There remains about five miles of paving to be done in that county between Warrendale and the Hood River line. To protect the road and save the contractors from annoyance, the road will be kept closed in the meantime.
The stage has been constructed and the scenery painted and placed in position for the Barrett production of "Among the Breakers" at the Valley Christian Church next Friday night. Miss Mildred Markilie ably represents Mother Carey, the witch of Fairpoint; Miss Kate Forry, Minnie Daze, the beautiful girl of the city with a romantic soul yearning for adventure; Miss Gladys Reavis as Bess, "cast up by the waves," a delightful heroine; and Miss Hattie Plog, the real red-cheeked Irish girl.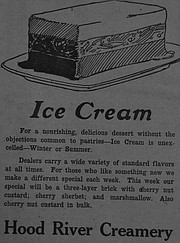 1926 — 90 years ago
A new glacier, three-quarters of a mile long and more than a quarter of a mile wide, was discovered Sunday on the south slope of Mount Hood, says the Oregonian. Thus is not only another of the mysteries of Mount Hood revealed, but added evidence is afforded of the constant change of flux of the seemingly silent and immovable peaks of the Cascade Range, and proof that their alpine rivers of ice are receding.
The new West Side market road, built as the result of cooperation between the city council and the county court, is now complete and is open to traffic. This road provides an avenue of communication between Belmont, Barrett and Frankton districts, which does away with the excessive grades of 12th and 13th streets, and will prove to be very welcome to the farmers when the hauling season commences next fall. Since the new road was opened, traffic on the upper end of 13th St. has greatly fallen off.
1936 — 80 years ago
The original Mount Hood Hotel, for many years the center of pioneer actives of Hood River Valley, is about to be razed as a fire hazard to more modern business property in this city, and while it is quite probable that much of the material of which the huge frame building is composed will find its way into other less-pretentions buildings in town and country, this half-century old relic of the '80s, is destined to disappear from the site above the railroad depot, which it has occupied since 1882, when the original unit was erected by Peter Hosford.
On page 6 of this issue of the News, J.C. Johnsen announces a two-week sale of his entire stock of men's, women's and children's shoes at sweeping reductions. Back of the sale is the story of the realization of a long-time dream of a modern shoe store. For on May 1, J.C. Johnsen and his son, Arthur, will suspend business pending the building of a modern store on the site of the present frame building, one of the few remaining structures of this type in the business area. The Johnsen shoe business is one of the oldest in Hood River, and J.C. Johnsen promises all residents that in the coming sale, a long list of real bargains will be offered.
1946 — 70 years ago
Easter Sunday this year falls on Blossom Day in Hood River Valley, for many pear and cherry orchards in the lower valley will be in full bloom this weekend. A real opportunity is offered to those who will attend church Sunday morning, to enjoy an early dinner and make a tour of the lower and middle valleys to get an idea of what fruit trees offer in the way of promises for an excellent crop this year.
That a swimming pool, 110 by 50 feet, ready to use, can be built for $65,000 or less was the statement made by Architect Annand before members of the city council this week. As a result, the council decided to call for bids on the project, and also decided to invite bids for the building of a new grandstand for the softball field, also a part of the War Memorial.
1956 — 60 years ago
A rock slide a mile west of Hood River halted traffic for over an hour Friday morning on the Columbia River Highway. Tons of rock and soil fell from the 300-foot cliff about 7:30 a.m. and traffic was halted until state highway crews cleared a one-way lane on the westbound approach. The slide occurred a few hundred yards west of Meredith's motel and rock was pushed over the north embankment overlooking the former Morton point.
Support of the program to fluorinate city water will be presented in an address to the city PTA by Dr. J.W. Henderson at 7:45 p.m. at Park Street School. Officers recently elected for the PTA representing Coe, Park and May Street schools are Bill Gaddy, president, Archie Tainer, vice-president, Themla Hawkins, secretary, and Bill Sundby, treasurer.
1966 — 50 years ago
"Never has the valley seen anything like this," said Mary Moore with a tired smile after the last carload had pulled away from the Pine Grove Blossom Day smorgasbord last Sunday. The grangers had just finished serving dinners to 1,900 persons purchasing tickets, and a few hundred children too young to pay. The 100 workers also caught a bite when they could, pushing the total served to well past 2,200.
VERBATIM: Poet Gains Recognition
Shizue Iwatsuki, who gained international recognition in 1974 for her Tanka poetry, learned recently that her name is now part of an encyclopedia record.
Then 77 years old, the Hood River Valley woman was one of 10 selected to present her Tanka verse at the court of Emperor Hirohito in Japan on Jan. 10, 1974. She was the only American receiving the honor, and since 30,000 poems were considered, her accomplishment made news not only in Oregon, but throughout the nation. Both the Washington Post and the New York Times carried accounts of the occasion.
Later she was acclaimed as a "Woman of Accomplishment" in Hood River. The poetry involved was the complex, formal, 31-sylable Tanka verse. While it loses much in translation from the Japanese, the verse carried this message: "In the light of the morning sun / On the Columbia River / Sails a wheat-laden Japanese Ship / Led by a tugboat."
In a session of "World Topics" yearbook for 1975 on Japan, Mrs. Iwatsuki's accomplishment was featured by the writer of the section, Theodore McNelly.
Mrs. Iwatsuki, now approaching 80 years old, doesn't plan to enter the international competition another time. She did when she was in her 60s, and placed among the top 100. "Then, when she was in her 70s, she decided to give the Emperor one more chance," said her daughter-in-law, Mrs. Harry Iwatsuki. "And that was it."
— Hood River News, April 22, 1976
Blue-grey haze hung over the Hood River Valley Monday and Tuesday mornings, telling residents that temperatures in blossom-filled orchards had dropped well below freezing. Monday night and Tuesday morning saw general use of smudge pots when the thermometer dropped as low as 22 degrees in one spot, and to 25 in others. Oak Grove, Dee and Parkdale recorded the lowest temperatures.
1976 — 40 years ago
Voters turned down the county school budget by a 5-3 margin here Tuesday. The budget defeat brought expressions of disappointment from school leaders, who felt recent mailings of property tax assessment notices had marked effect of the feeling of the voting population. The total turnout was about 36 percent, a fairly large one by special school election standards.
A new "bank" has come to Hood River, but the dividends will not be in dollars, but in sight. Through cooperation of Hood River County Lions clubs, the Oregon Lions Eye Bank is establishing a "substation" in the Hood River area. It also signals an increased effort for Lions to sign up more potential donors in the sight-saving program.
1986 — 30 years ago
Turbines are turning this week at three points along the Middle Fork Irrigation District in a new multi-million dollar power generation project. Engineers are still working to bring the output up to design capacity, but for all practical purposes the system is on line. Bill Stanley, district manager, said Powerhouse No. 1, the largest in terms of output, was producing 1,750 kilowatts (its design capacity is 2,050, he said).
Now showing at the Trail Indoor Theater is Murphy's Romance, starting Sally Field and James Garner, and The Money Pit, starring Tom Hanks and Shelley Long. Outdoors, its Quicksilver and, starting Friday, Crossroads, starring Ralph Macchio and Joe Seneca.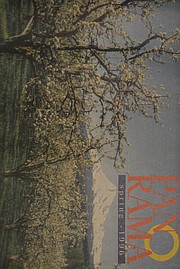 1996 — 20 years ago
Hood River puts on its best face this week with the 42nd annual Blossom Festival. Crafts, food and tours will be offered at nearly every corner of the valley. Hood River Valley Blossom Festival kicks off Friday with Down Manor-hosted coronation of Miss Hood River Blossom. Three young women — Amy Bickford, Adriana Acevedo and Brooke Struck — are vying for the honor. Blossom Festival kicks into full gear Saturday with dozens of scheduled events throughout the valley. It continues Sunday, arguably the most popular day of the weekend. "Traditionally, it was Blossom Sunday," says Melanee Gillette, executive secretary of the Hood River County Chamber of Commerce, referring to events that once centered at Pine Grove Grange before the festival blossomed into a full-fledged, valley-wide celebration with an estimated 25,000 to 30,000 visitors.
The port commission will discuss a proposal for locating an RV park at the marina at its May 7 meeting. The idea has already met with significant opposition from the port's own Marina Landscape Committee, which was organized as a result of the initiative to formulate a plan for uses and landscaping at the marina.
2006 — 10 years ago
John and Kathie Alley are enjoying their business after a quarter-century of running Odell's supermarket, Mid Valley Market. "We're really an agriculture-oriented business," said John, who left a corporate grocery job to become manager of what was then a mid-sized supermarket on April 15, 1981. "If the farmers have a good crop, they and their families (workers) do well. That means we do well," he said.
There's no way around it: Installing a sewer system at Windmaster Corner is going to be expensive. But the 98 homes sitting in the area where septic systems are failing could find it even more costly if something is not done soon. Hood River County stands o lose $600,000 in federal grant funds that have been banked since 2001.
— Compiled by Trisha Walker, news staff writer