A Hood River man on Tuesday pled guilty to stabbing a man at his home in the Dee area in summer 2014.
Dale Allen Bush, 68, was convicted of first degree assault for knifing Richard E. Wilson, 56, of Ocean Park, Wash., in July 2014, according to court records. Wilson suffered from what a Hood River circuit court judge called "frightening" injuries to his neck and chest, but he has since recovered.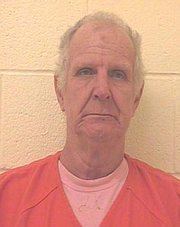 Bush also admitted to owning a "destructive device" — a blasting cap, or small detonator designed to set off larger explosives like dynamite or plastic bombs.
Judge John A. Wolf sentenced Bush to seven and a half years in Oregon Department of Corrections for the stabbing and about six months in Northern Oregon Regional Corrections Facility for the weapons charge. However, the county jail sentence was essentially cancelled out because Bush will receive some credit for time spent in NORCOR in The Dalles leading up to his conviction.
Bush also paid a $50,000 fine to Wilson.
A grand jury last summer also charged Bush with attempted murder and possession of cocaine and methamphetamine, but those were dropped after a plea deal between Bush's attorney, Ryan Anfunso, and Hood River County District Attorney John Sewell.
The stabbing took place on Bush's property on July 17, 2014, according to a report that month by Hood River County Sheriff's Office.
Authorities were called that evening to the remote 3800 block of Paul Partlow Road north of Dee on a report of a stabbing. Wilson had multiple stab wounds. HRCSO reported "a deputy and neighbors performed life-saving measures until medical personnel arrived."
Sewell said Wilson would "probably be dead" if it weren't for the neighbors and deputy.
"The blade in question was significantly large and came dangerously close the defendant's heart," Sewell said.
Wilson was transported from the scene via Life Flight to Oregon Health and Sciences University Hospital (OHSU) in Portland under critical condition. A few days later, officials reported his condition had improved.
Deputies searched Bush's house and found "ammunition, illegal weapons, explosives and drugs" on the property. Bush was arrested "without incident."
Bush appeared in person before Wolf on Tuesday for his sentencing in Hood River Circuit Court.
When Wolf asked Bush if the state could prove beyond a reasonable doubt he had committed the knifing assault, Bush said "probably yes," and then "yes." However, Bush said he couldn't remember doing so.

Bush said he suffered from post-traumatic stress disorder. Anfunso mentioned later in the proceedings that Bush was a Vietnam War veteran. However, Bush agreed to the charges and confirmed he was in a "clear state of mind" when Wolf asked.
Wilson appeared in person to give a sternly worded rebuke against Bush.
"I would like the court to consider that he (Bush) does time for his crime, and his frequency for which he commits them seems to increase … he's obviously an ignorant coward that does desperate things in a cowardly way and conveniently can't remember. He has no sense of remorse whatsoever," Wilson said.
Bush's criminal history traces back to well before his 2014 arrest. He was sentenced to 118 months in prison after being arrested in 1999 for drug and weapons violations.
On Tuesday, Wolf declared Bush was "lucky" he hadn't been given a more severe sentence for the 2014 crimes, and asked him to think about his actions while in custody.
In a brief response, Bush said Wilson had been trespassing on the evening of the stabbing incident.
"I was on the mountain doing my own thing by myself and not bothering (anybody), and he was not welcome on my property. He knew that, people had told him," Bush said.
"Even if that's the case, this was clearly the incorrect response," Wolf said. "Someone shows up at your property, you think they're trespassing … the easiest solution is call a deputy — that should be clear."
Bush was sentenced to 90 months in state prison, along with conditions such as forfeiting all the weapons seized at his house.
Wolf alluded to other "federal criminal issues" that Bush will need to settle, though specifics didn't surface in court this week. An official at NORCOR confirmed Bush was being transported from the jail to another facility on a U.S. Court Martial.