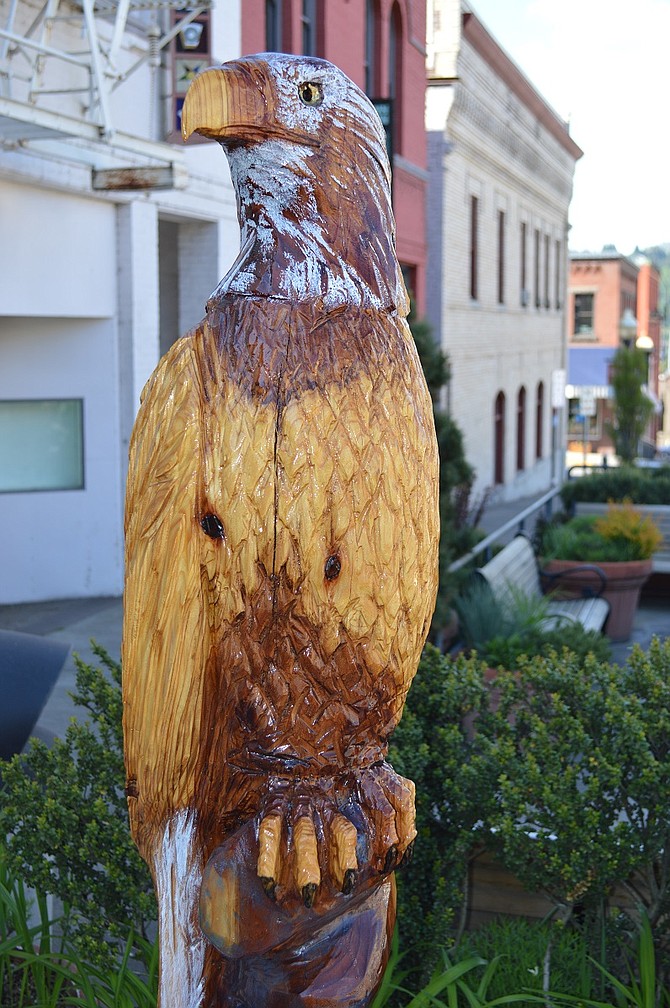 Look for two subtle changes in the Art of Community outdoor sculpture gallery, aka Big Art.
Cascade Locks sculptor Heather Soderberg-Greene installed her wooden eagle piece, "Dreaming," at Second and State Monday, along with Art of Community curator CJ Rench. The piece will remain in place, across from City Hall, until later this year when a larger piece by Soderberg-Greene will be installed.
Meanwhile, a few blocks due north, Rench's metal piece "Happy Humans," which had been installed on the pedestal at Second and Riverside, was moved last week to make way for utility changes as part of the Sheppard's move to that site.
Kristin Godkin of Art of Community said the group has arranged with the Port of Hood River to move the pedestal across the intersection, to the west. Crestline will be scheduled in a few weeks to pour the new pedestal.
The AOC pieces are being kept in place for two years, with a few exceptions, a change from the original one-year plan. AOC started in 2014 with 16 sites downtown and on the waterfront, and now features 25 pieces including three on the Heights.
For an online map, go to art-of-community.com.