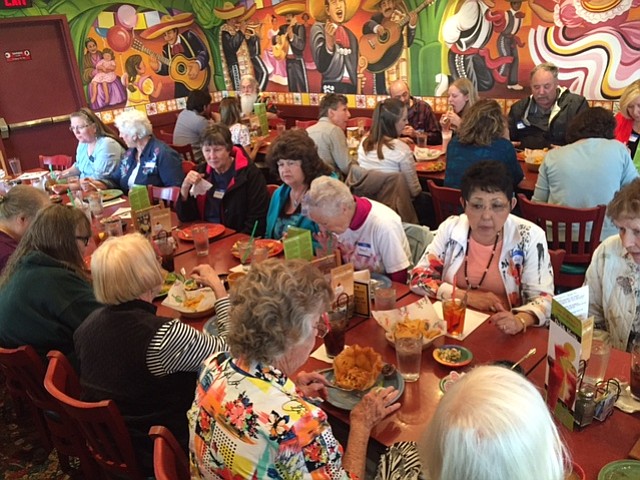 Heart of Hospice extended a heartfelt thank you to all its volunteers "who make a meaningful difference in the hearts and lives of our patients, families and staff," writes volunteer coordinator Jayne Mederios.
"We are incredibly grateful for the volunteers' gift of their time, talents, and compassion. This year, our 2016 Volunteer Appreciation Celebration was held at Casa el Mirador in The Dalles (photo below), with 42 people in attendance, including the Odell Garden Club, Youth of Heart of Hospice, office volunteers, music volunteers, harp therapist, veterans volunteers, and even two Santa Claus volunteers.
"In 2015, volunteers clocked nearly 5,000 hours in support of Heart of Hospice mission. Their services included making quilts, creating weekly flower arrangements in both Hood River and The Dalles, providing office and administrative support for our staff, running errands, providing companionship for patients, providing much needed respite for home caregivers of patients, constructing a wheelchair ramp, yard work, playing music, singing songs, and reading poems. Two professional ukulele players also joined a Youth of Heart of Hospice (YoHOH) outing, honoring veterans at the Oregon Veterans Home as well as the Veteran to Veteran program, reaching veterans throughout the Columbia River Gorge.
"No matter how volunteers choose to serve, they enrich and support the patients and our community by sharing their unique skills and talents.
"The hope, love and dignity that is demonstrated by our volunteers is truly a gift from the heart, and Heart of Hospice thanks each of our volunteers for their commitment to our patients, their loved ones, and the community.

"Thank You to our volunteers for bringing meaning into days and lives of our patients."