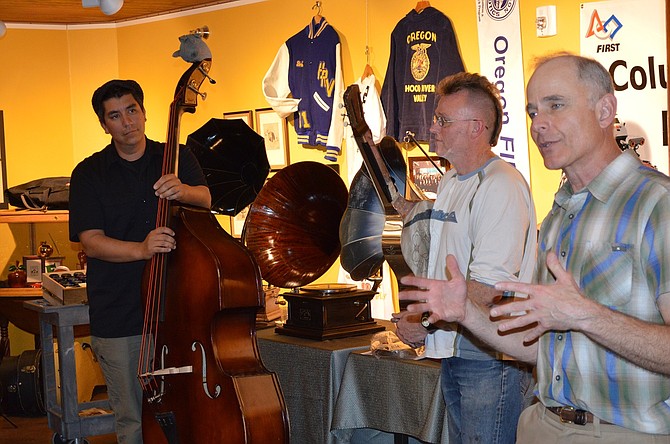 Wednesday brought a listening event unlike any other to Hood River.
Eighty people turned off their cellphones, forgot about the NBA playoffs on TV, and gathered around phonographs at The History Museum of Hood River County.
Yes, phonographs, three 19th-century record players with two-foot wide bells used both for emitting sound and for recording onto artificial wax rolls and shellac disks. Two of the machines are owned by the museum, and a third owned by aficionado Arthur Babitz, an engineer and historian who has restored a number of his own phonographs and is well-versed in early sound. He said one of the machines and records can be handled, and played, at the museum.
The machines, operated by specialized springs that you wind up for a 6-10 song "playlist" before cranking them again, were high-tech in their day, and Babitz explained the progression of their use. Music, comedy, and foreign language instruction were just part of the revolutionary new technology in which people could, for the first time, hear recorded sound and in their own home. Initially, all recordings were limited to two minutes, but as technology advanced each recording went up to four minutes. New versions were continually released.
"Edison changed models faster than iPhones today, about every six months," Babitz said. Phonographs would be supplanted by radio and then TV, but it was a shift from live music.
Babitz and musicians Ben Bonham and Ronnie Ontiveros spoke and performed music of the period in the "Music at the Dawn" event, and the event produced a recording of its own: Bonham and Ontiveros recorded a one-minute version of the Hawaiian song "Maui No La Ka Oi," onto a century-old wax roll, and the audience got to hear the faint playback. Throughout, Babitz kept track of notes and song information by consulting his digital tablet.