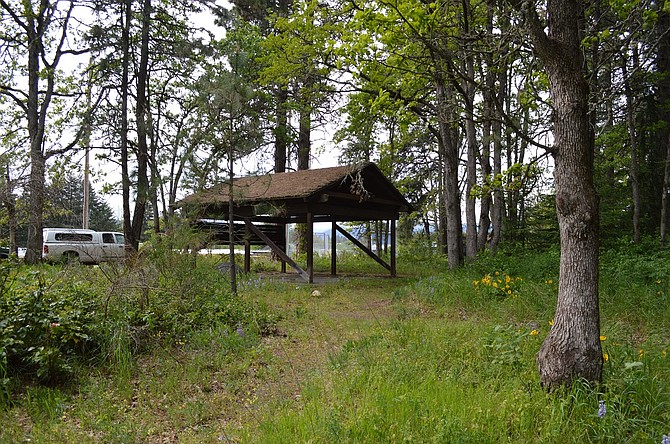 Hood River Valley High School's ball fields and the overgrown park running alongside them — Golden Eagle Park — could get major improvements.
Hood River Valley Parks and Recreation District is unrolling a plan to develop the wooded stretch between HRVHS and Indian Creek Road. The project would clear the way for expanded, paved parking lots (instead of gravel) and new mixed used sports courts, as well as changes to reorient and improve the baseball fields.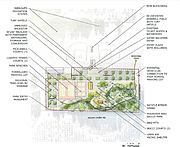 Hood River County has leased Golden Eagle — a minimally-used 3.75-acre park next to Traner baseball field — to the school district since 1979. An old wooden shelter with a "Golden Eagle Park" sign remains, but the site is mostly overrun with brush and trees.
The goal behind the Golden Eagle area improvements is two-fold — to improve parking and features at HRVHS' ballfields, and to find a place for mixed use sports elements formerly proposed by the Parks District for Barrett Park.
Plans are still tentative, Parks Director Lori Stirn said, but the project has been well received by the public so far.
"The (Parks) board is optimistic that this is a good fit and the community would support it," Stirn said.
Major improvements at Golden Eagle would include:
• Expanding and paving the HRVHS ballfield parking area to accommodate about 57 more vehicles.
• Re-orienting the junior and varsity fields along the parking lot, adding new turf, bleachers and entryway.
• Tennis courts east of the current gravel parking lot, where the old Golden Eagle shelter sits.
• Multiple bocce and pickle ball courts.
• Open air or roofed picnic shelters.
• A 30-foot by 50-foot pavilion with a permanent restroom.
• Bicycle and trail fitness skill courses.
The total cost of improvements would be about $830,000. A large piece would come from a $494,000 state parks grant originally intended for Barrett Park; the rest would likely come from the Parks District's general fund, system development charges and local donations.
Stirn said most of the concepts originally aimed for Barrett Park would be incorporated into the Golden Eagle plans, and the park would tie into the existing Indian Creek Trail route.
Including the ball fields, the entire project area for the proposed improvements is about 10 acres. The park land is zoned Exclusive Farm Use (EFU), non-high value farm land.
The existing gravel lots at HRVHS' ballfields fit about 50 spots, but that number would double with the HRVPRD's proposed asphalt lots.
"Cleaning it up … and having an entrance to both fields would really improve the atmosphere over there," HRVHS Athletic Director Tom Ames said.
Ames said in addition to easing parking congestion, the proposed park's courts would benefit the school's tennis teams, giving them more flexibility in their practice times.
Future management of the park still needs to be finalized. An intergovernmental agreement between the Parks District, county and HRCSD would set out the park's future.
HRVPRD plans to hold public meetings in June to gauge feelings on the park. If permits come through and aren't appealed, development could begin this fall.
Dates to share public input
The Parks District invites the public to share input on the proposed park at two public meetings.
•Thursday, June 2 at 6 p.m
•Tuesday, June 7 at 6 p.m. Both meetings are at the Hood River Fire station.

Those interested can also send in comments or suggestions to parksandrec@gorge.net.