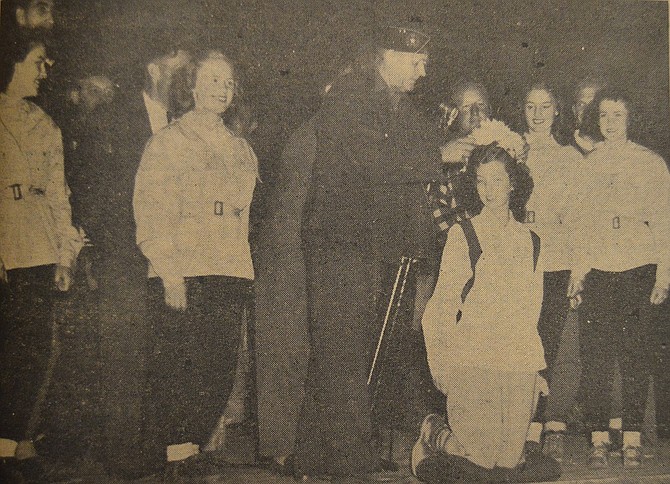 1916 — 100 years ago
Postmaster Reavis has reported to the post office department that the present quarters in the masonic Building are inadequate and not properly equipped to comply with the department's requirements. Moving the post office to other quarters is being considered and a post office inspector who was here a few days ago inspected possible quarters. One of those most frequently mentioned is the corner room in the Heilbronner Building, which is soon to be vacated by the Five, Ten & Fifteen Cent Store.
1926 — 90 years ago
The disagreement over the proposed route of the Whiskey Creek lateral provoked a very warm session at the county court on Wednesday, when A.I. Mason, on behalf of those who oppose the expenditure of market road money on a grade which includes sections on 7 and 3-10ths percent, endeavored to persuade the county court to either provide for another location on a 5 percent standard grade or to abandoned the project for the time being. The argument, on both sides, resulted in hot words, and there were threats of remonstrances and injunctions after County Judge Hasbrouck had stated he was through with further debate on the subject, and instructed County Engineer Hurlburt to order the successful contractor to proceed with the work.
1936 — 80 years ago
C.L. Rankin is Cascade Locks' first justice of the peace — or is he? This is the problem which has set not a few heads to wagging the past few days, ever since Governor Martin notified Rankin that the appointment had been made. For the truth of the matter is that Rankin cannot be justice of the peace for the district of Cascade Locks because no such district exists. Of course, Governor Martin is not to blame for issuing an appointment to Rankin, and Rankin, in turn, notified by friends that the district had been approved, did only what any man seeking the job of justice of the peace would have done under similar circumstances. But the awkward fact remains that, when the County Court was last in session, it turned down a proposal that a justice court district be created at Cascade Locks, but, through an error, the docket was marked "approved."
1946 — 70 years ago
From the satisfaction angle, the combined efforts of several hundred Legionnaires, Auxiliary members, Crag Rats and civic-minded Hood River Valley people paid dividends last weekend with the resumption of the annual American Legion Climb of Mount Hood. Over 3,000 persons, one of the largest groups in the history of the climb, journeyed up Mount Hood's slopes last Saturday to the mile high Legion camp, where they found ample preparations made for their housing, feeding and entertainments. Summed up in a slightly trite but definitely true statement: "A good time was had by all." It was the first postwar legion climb.
VERBATIM: County Chamber 'On the Move'
The county chamber of commerce is on the move! The office location of the chamber-port is being changed from Oak Street to the former bus depot at Second and Cascade.
Articles of incorporation were filed by the chamber with the state in Salem Thursday and the county organization has launched a membership drive under the direction of William "Bill" Henry, chairman.
Manager George Bartch addressed the Pomona Grange meeting in Parkdale yesterday on the topic of "What Is a County Chamber of Commerce." Committee meetings will be held Tuesdays at 6:30 a.m. during the membership drive.
Membership committee consists of Joe Higgins, Hal Shelton, Earl Moore, Roy Webster, Bill Sundby, Ray Yasui, George Corwin, Bob Flint, Les Sherwood, Don McCutcheron and Lou Merz. The tourist and convention committee consists of Jerry Bell, chairman, Glen McPherren, Clarence Cranmer, Harlin Shank and Jim Wilkinson.
— August 2 1956
1956 — 60 years ago
"An amazing record has been set in Hood River County for the few man-caused forest fires despite the relatively dry summer to date," said the state secretary of Keep Oregon Green association, Albert Wiesindanger, during a Monday luncheon meeting with county committee members. Caution that August and September are Oregon's two worst forest fire months was noted by the KOG representative, and he requested that everyone cooperate in preventing forest fires.
1966 — 50 years ago
Sheriff's officers plan to start a roundup of a slightly different sort soon, but it involves trailer houses, not cattle. "In a few days, we're going to start a countywide check on all trailer houses to make sure they're licensed," said Sheriff R.L. Gillmouthe. Lately, county planners have suspected trailers have been moving into the county without proper provisions having been made. "Those without current licenses are subject to citations and fines," said Gillmouthe. The trailer crackdown has been a cooperative operation by the sheriff and planners in an attempt to avoid establishing trailers in illegal locations.
1976 — 40 years ago
Records, the saying goes, are made to be broken, and the 1976 Hood River County Fair did an outstanding job in the record-breaking department. Gate receipts, commercial exhibits and open class entries all set new records at this year's edition, which concluded Saturday night. The new marks were by substantial margins, too. Gate receipts and attendance were up by a whopping 17 percent, while open class exhibits increased slightly over 15 percent. FFA and 4-H entries, however, were down slightly. Fair officials felt ideal temperatures contributed to the record breaking attendance. Evenings were cooler than usual, and cool Saturday temperatures caused a record turnout for Pioneer Day.
1986 — 30 years ago
Exterior walls are full of holes, and test results for the roof are not yet in, but the Port of Hood River's Waucoma building is deemed ready for initial tenant improvements by United Telephone Northwest. The telephone company will serve as anchor tenant for the building, locating offices on the fourth floor. Included in its plans is a state-of-the-art conference room accommodating 80 to 100 people and equipped with the newest audio-visual equipment. This would be available not only to present business customers, but also to future businesses locating in the building. UTNW officials said Tuesday that drawings will be available Friday to companies planning to bid on the tenant renovations.
1996 — 20 years ago
Just savoring the moment. A breath of relief — satisfaction mixed with Olympic excitement — escaped Courtney Becker-Dey, a 31-year-old Rowena sailor who captured the bronze medal Wednesday in Europe Class single-handed dinghy sailing. She finished with 39 points, two better than Shirley Robertson of Great Britain. The gold went to two-time world champion Kristine Roug of Denmark and the silver to Margriet Matthijsse of the Netherlands. "I am completely satisfied," said Becker-Dey on Aug. 1, as she awaited the medal awards schedule for Friday. "A lifelong goal was accomplished. It was a stepping stone; not I can go on to whatever I want to do in life, be it sailing or something else."
2006 — 10 years ago
River's Edge Towing has changed its name and location as the family-owned enterprise moved recently into a new building on Tucker Road. The name change to River's Edge Automotive does not mean the company will stop towing but rather emphasizes their investment in expanding the automotive repair end of their business. "We just didn't have room for growth and we've been looking for a place to expand for years," said Jason Shaner, president of Shaner Enterprises, Inc.
— Compiled by Trisha Walker, news staff writer