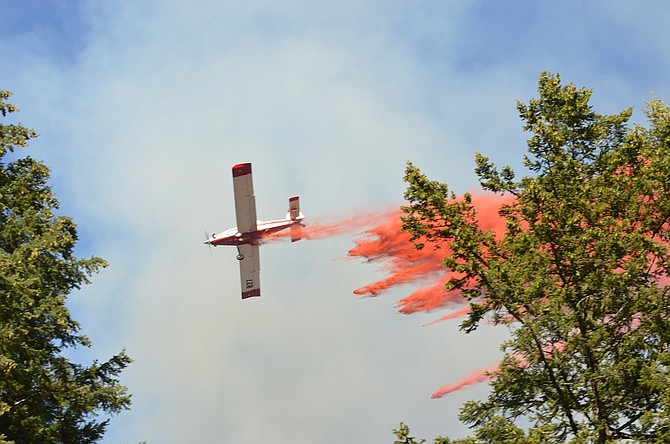 Neal Creek Fire, which roared up at about 4 p.m. Thursday, is burning 15 acres of brush and timber on a ridge about eight miles south of Hood River.
Crews made "really good progress" on the blaze overnight and have stopped its spread, Public Information Officer Christie Shaw said Friday morning.
The fire was 50 percent contained Friday, and crews expect to mop it up completely within the next several days.
Shaw said agencies predict the fire will "shrink" in size, despite a risk of afternoon winds.
An interagency group of about 90 firefighters are working on scene to bolster a line around the entire fire, choking its perimeter, and dousing hotspots within.
The fire is eating through brush and dense second growth Douglas-fir — steep, rugged land east of Odell, in Oregon Department of Forestry's The Dalles Unit.
No homes are in danger, officials said. Nearby residents could smell smoke from their houses.
Around 4:10 p.m. Thursday, crews set up on scene at a shooting range off Neal Creek Road, about 4.5 miles southeast of Highway 35. The fire scorched an adjacent hill, with a column of smoke rising on the east side of its forested slope.
Battling the fire were 10 fire engines from Wy'East Rural Fire District and Pine Grove, ODF, Bureau of land Management and U.S. Forest Service, a dozer, two single engine tanker planes, one helicopter, and three heavy air tankers.
The planes dropped massive jets of fire retardant Thursday evening, and a helicopter rained water down on the blaze, checking its spread. Ground crews scaled densely forested hills to flank the fire and set up a hand line around its perimeter.
By about 8 p.m., the spread of the fire had been halted.
The Hood River County Fairgrounds in Odell has become the base camp for beleaguered firefighters to rest and recuperate.
The cause of the fire is under investigation.
A state investigator from Prineville was reportedly traveling to the scene Friday to look into the cause.
On Thursday evening, Hood River County Sheriff's detective Marc Smith collected evidence at the shooting range, including several empty shell casings for potential DNA analysis, which he zipped up in a plastic bag.
Smith said witnesses reported a cloud of dust rising from a vehicle taking off south away from the scene that afternoon. However, investigators don't have a suspect in the cause of the fire at this time. Details about the vehicle weren't immediately available.
The threat of fires in the region isn't over — fuel conditions throughout the Central Oregon fire district are extreme, according to ODF.
"We're into the critical period of the fire season," Shaw said.
Winds were mild on Thursday, but they were expected to pick up on Friday.
Thunderstorms are expected throughout much of eastern Oregon as a storm system moves through the region. The storms could ignite fires, draining firefighting resources around the state.
Shaw said human caused fires have reared up frequently in the eastern region this summer. She encouraged people to follow all fire prevention measures to curb their threat.