KZAS announces the kick off of a new Bluegrass music show hosted by Mike Nichols starting Monday evening, Aug. 15, from 7 to 9 p.m. KZAS, aka Radio Tierra, is found at 95.1 FM in Hood River.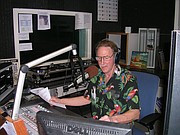 The show will be aired on the first and third Monday evenings of the month. His program will alternate with Nate Fleming's show, "One Drop Radio," hosted on the second and fourth Monday evenings in the same time slot.
Nichols, who has been a bluegrass fan for over 50 years, is going to share his extensive collection of music with Radio Tierra listeners. He has a collection of many 33 1/3 vinyl records and hundreds of CD that includes music from the early 1970s to the present, with some material from the 1940s and '50s that were released on vinyl and CD. He continues to add new, traditional style Bluegrass music to his collection on a regular basis.
Nichols previously hosted a bluegrass radio show bi monthly in Durango, Colo., on KDUR community radio station sponsored by Fort Lewis College.