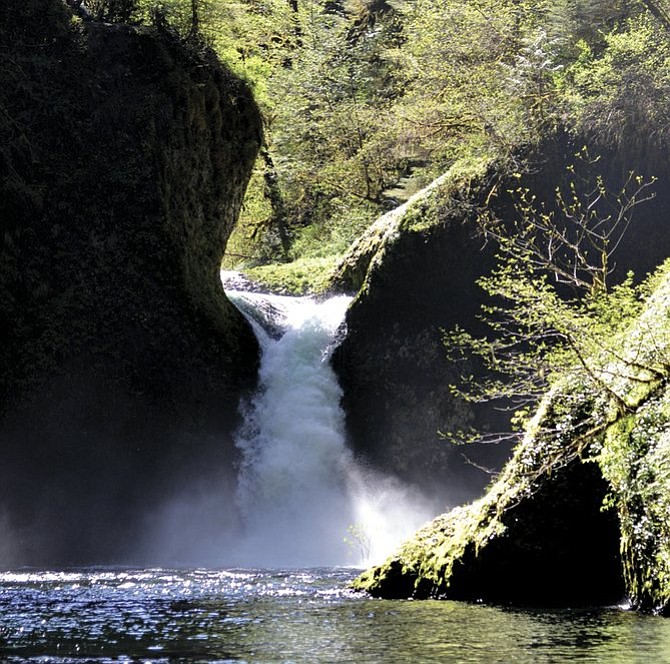 A New York man fell to his death Tuesday evening at a waterfall near Cascade Locks, authorities said.
Francesco Goncalves, 20, of Eastchester, N.Y., was hiking with a group of friends when he reportedly suffered a fatal head injury after plummeting about 70 feet into Lower Punchbowl Falls on Eagle Creek Trail, west of town.
At 5:42 p.m. Tuesday, a caller told the Hood River County Sheriff's Office that a hiker had fallen into the waterfall, according to a sheriff's office news release. Witnesses said the man was underwater when they reached him.
Crews from the sheriff's office, American Medical Response and the Hood River Crag Rats, a mountain search and rescue organization, responded to the scene.
But before the rescue team could reach the falls, bystanders reported the man was dead.
By about 7:43 p.m., emergency personnel arrived at the accident site, which is roughly two miles from the trailhead. They identified the victim as Goncalves and confirmed his injuries were fatal.
Goncalves was hiking with a group of friends, several of whom said they saw him fall. Witness reports and evidence at the scene matched up to show Goncalves fell about 70 feet, from above the waterfall.
As of Wednesday, the investigation into Goncalves' death had moved into collaboration between the sheriff's office, Hood River County District Attorney's Office and Hood River County Medical Examiner.
Eagle Creek, which runs along the westernmost edge of Hood River County and empties into the Columbia River in Multnomah County, has proved dangerous for hikers and swimmers who fall into its waters.
Lower Punchbowl Falls in particular has emerged in recent years as a spot where rescue crews frequently respond for emergency aid.
In 2011, the Forest Service enacted a closure order banning jumping or diving off the falls. A sign urging visitors not to jump into the falls went up several years ago.
Eagle Creek trail itself makes for a demanding hike.
"It's a challenging trail for a rescue, even when they're simple," said longtime Crag Rat Christopher Van Tillburg on Thursday. "It's steep (and it) narrows, carved into that cliff."
The Crag Rats get about 30 calls for emergency response per year. In 2016, they've had about 18 missions, including eight in the Gorge from Mitchell Point to Eagle Creek, eight on Mount Hood, and two in Klickitat County.
So far this year, Cascade Locks Fire and EMS has responded to 11 calls for help on the trails in their response area, Station Captain Jessica Bennett said in an op-ed piece to the News (see A4). Two of those calls ended with someone losing their life.
Van Tillburg said many visitors who need rescuing did nothing wrong and were prepared hikers, but accidents can strike anyone.
"All the (Columbia Gorge) trails are incredibly beautiful and spectacular, but even some of the most basic trails can have loose rocks, dirt, or spring water dripping on the trails. Even the trails themselves can be hazardous," Van Tillburg said.
---
Hood River County dispatch took a report of another fall at Eagle Creek, about six miles up the trail, on Thursday afternoon. The call said an adult had fallen 75 feet. KGW-TV news station reported that a hiker suffered minor cuts and injuries to the ribs, but no serious injuries were reported.