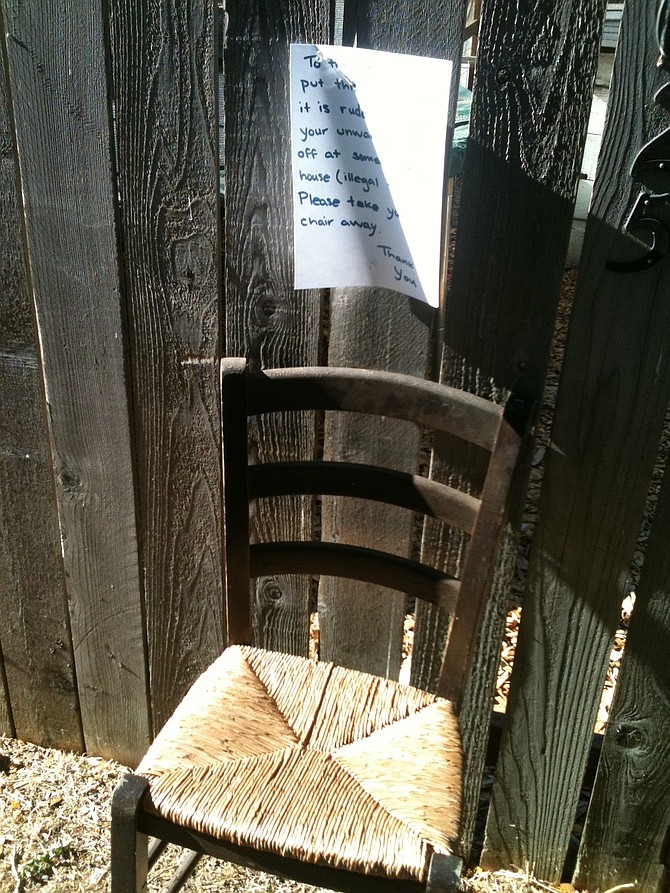 WELL SAID: "Sound loves to revel in a summer night." — Edgar Allan Poe
WELL DONE: Neighboring works: Hood River artist Mark Nilsson's new mural at Stave and Stone Winery tasting room, 210 Oak, and next door at Art on Oak, Mount Hood artist Rachel Harvey's solo show has been extended through August. Open daily, 10 a.m. to 6 p.m.
WIND WONDERS, Hood River-style: It's August, and the wind is in its prime. Do the vertical stacks of gear — bikes, SUP and other boards — get thicker and deeper all the time on RVs and vans visiting town? Some of them protrude well into traffic as they hang from the tops, backs, and sides of vehicles, layer upon layer of boards. One van cruising through downtown had five bicycles clutched to its FRONT.
NOT ALL who wonder are lost: A visitor stopped a local on the street one windy day last week and pointed to the white caps and sails on the Columbia, asking, "Do they like it when it's this windy?"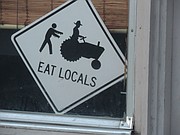 SIGN OF THE WEEK: Could that tractor-chasing zombie (see photo) be heading to a "Farm-er to Table" meal? Ask the farmers at Draper Girls in Mt. Hood.
CASE OF A 'ROVING I'? Two women crossing the street near Logsdon Farmhouse Ales Belgian Brasserie: One says, "Oh, there's the … 'Belgium Brassiere.'"
FREE?: In a Heights Alley, a homeowner asks the question: "To the person who put this chair here: it is rude to dump your unwanted items at someone's house (illegal too). Please take your chair away." Next day, the chair was gone.
BUMPER STICKER of the Week (but we didn't get a picture of it): FOTOGRF4.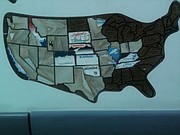 SAVE THE DATE: Sixth annual Rock Paper Scissors contest, 6:30 p.m. on Sept. 2 in front of Andrew's Skylight Theater and Pizzeria, Oak and First streets; competitors of all ages will face off in the ultimate single elimination Rock Paper Scissors battle. Participants will compete one on one until a champion is crowned and takes home over $500 worth of prizes.
DOES ANYONE do the U.S. states' decal gimmick anymore? Judging by the weathered state of the California and Nevada stickers, probably not as long as the owners of this RV seen downtown recently.
STICKERS peel: is it a case of de-California?