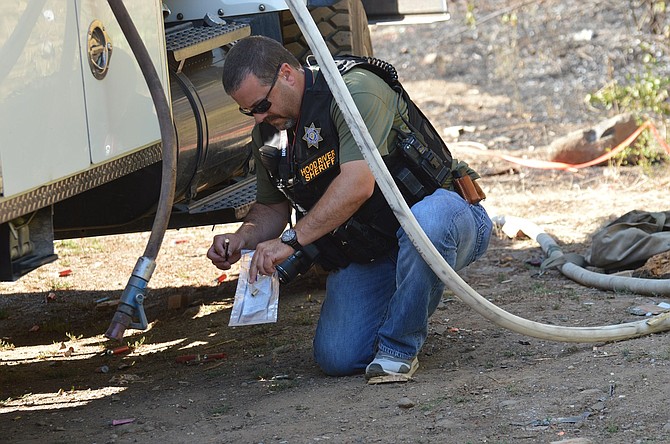 Despite challenging terrain and hot conditions, firefighters quickly tackled a 15.5-acre blaze near Odell last week.
Neal Creek Fire was completely contained by Saturday night. No homes were damaged and no injuries were reported.
Oregon Department of Forestry (ODF) hasn't pinned down the specific cause of the fire, but the agency has termed it human caused.
"It's human caused, we know that. But it's still going to be under investigation," Christie Shaw, public information officer, said Monday, pending final results.
An investigator from the forestry department's Prineville office, Stuart Otto, has been looking into the case.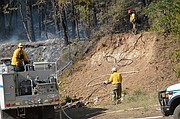 The blaze broke out Thursday afternoon in Neal Creek Canyon, about 4.5 miles southeast of Highway 35. It ripped through brush and timber up a steep hill, mostly in Hood River County forestland and partially in private land owned by Weyerhauser, a private timber company based in Washington.
Ground crews scaled densely wooded hills to flank the fire. Firefighters set up a hose line around the perimeter to rein it in.
Engines with ODF, Wy'East Rural Fire District and Pine Grove, Bureau of Land Management, U.S. Forest Service, and a bulldozer made up the ground gear. Tanker planes dropped retardant and a helicopter rained water on the fire. The air drops continued into the evening — by 8 p.m. the fire's spread had been halted.
Through Friday, crews advanced and squeezed the fire from 50 percent containment to 75 percent. Saturday was the fire's final moments — ODF said in a Tweet Saturday evening that the blaze was fully contained.
"Fire is 100 percent contained. Firefighters have worked hard in difficult terrain!" the central Oregon district Tweeted at 9:52 p.m.
Crews visited the site over the next few days mopping up possible hotspots, Shaw said.
The fire's specific cause wasn't announced by press time.
An adjacent quarry area serves as an unofficial shooting range, one of several off Neal Creek Road on county land. A handful of targets with bullet holes were erected on site, and gun shell casings littered the ground.
On Thursday evening, Detective Marc Smith with Hood River County Sheriff's Office collected evidence at the shooting range, including several empty shell casings in a plastic bag to send to state investigators.
Law enforcement took a report of a cloud of dust rising from a vehicle taking off south away from the scene that afternoon, but there wasn't a specific suspect in the fire's cause.
Despite the fire's size, the damaged inflicted on county timber supplies was "minimal," said Doug Thiesies, county forest manager.
"We kind of lucked out," Thiesies said.
The timber in that area wasn't among the county's most valuable supply, he said. The forestry department hasn't made an official assessment, but he estimated the salvageable timber could amount to a small sale, less than $5,000.
"Because of its location, it could have been a bigger threat," Thiesies said of the fire, if not for the quick response by crews and the ample resources used.
The county owns about 7,000 acres in the Fir Mountain area — out of its roughly 27,000 acres of forest fit for timber production — much of which borders on other jurisdictions' forest lands.
Fire conditions throughout ODF's central Oregon region are classified under "extreme." Hood River County's burn status was "moderate," as of Tuesday morning.
Since July 1, a burn ban in Hood River County has been in effect. The only burning permitted is for agricultural operations with a valid permit and arranged approval with a fire district and ODF.