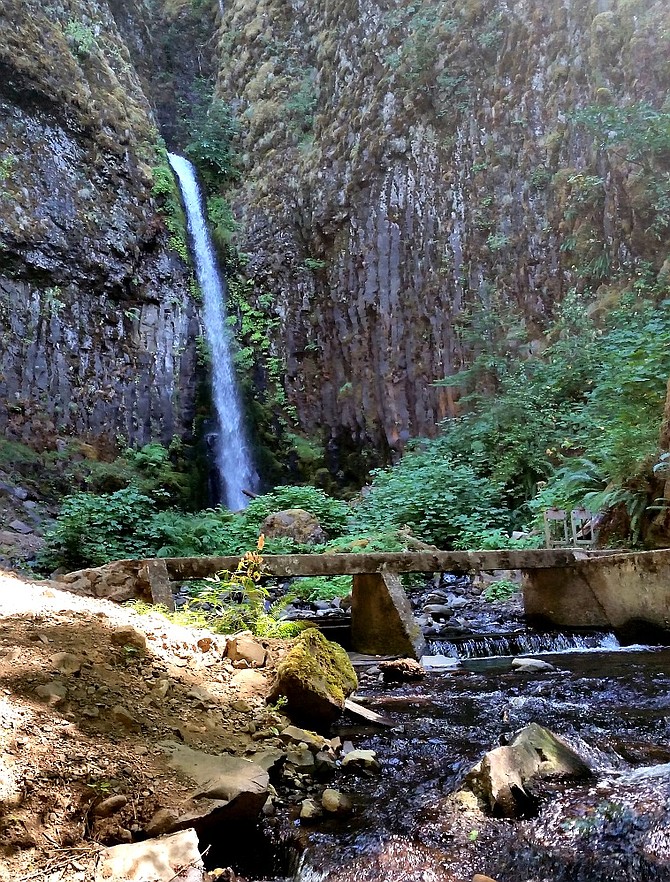 A Portland man fell to his death Saturday at Dry Creek Falls south of Cascade Locks, the second such fatality in Hood River County in August.
Rescue workers were on scene Saturday and Sunday, according to Hood River County Sheriff's deputies.
Samuel Shin, 28, was dead at the scene after falling about 50 feet onto rocks, suffering a massive head injury, according to Sgt. Pete Hughes.
Dry Creek Falls is part of the Ruckel Creek trail system.
Shin's body was difficult to access, and rescuers first used a drone to get a clear look at the scene, according to Deputy Chris Guertin. The incident was by far the worst of a total of five search and rescue calls dealt with over the weekend by Gorge responders, according to Sheriff Matt English (details at left).
BUSY SAR LOG
The Dry Creek fatality was one of four active Search and Rescue operations on Aug.12-14.
Others were at Eagle Creek, Tamanawas Falls, and on the 400 Trail on Ruckel Road system. The calls involved minor injuries including turned ankles and bee stings. Agencies involved included Parkdale Fire and U.S. Forest Service. A call about an overdue hiker Sunday night was resolved before responders went to the scene, according to English.
Map
Dry Creek Falls hiker death
Dry Creek Falls hiker death
English said, "It is not uncommon to have a few weekends throughout the summer where we have multiple SAR events," adding that the county has seen about 75 so far this year, putting it close to the record 100-plus SAR responses made in 2015. Nearly all are out-of-county residents, according to English.
"Thankfully the one at Dry Creek was only one real major one, but again it requires that some level of resources be committed to each call, and it's a strain not only on us but the other agencies," English said.
Deputies got the call to Dry Creek Falls just after 4 p.m. Saturday that Shin had fallen. Shin was part of a seven-person group that had rappelled down the cliff surrounding the falls, according to Hughes. He said others in the group told deputies that when they reached the bottom they found that one rope was stuck. Shin went back up the cliff to retrieve it.
"Mr. Shin wanted to go up and retrieve the rope that got hung up at the top of the lower falls," Hughes said. "It is not known how he got up, but he found a round-about way. (Witnesses) did not know what was his exact plan. He was near the cliff edge and witnesses said they saw him fall."
Cascade Locks Fire volunteers and deputies Joe Wampler, John Vogel and Guertin were the first to respond and assess the scene. Crag Rats were then called in, and over the weekend more than 15 volunteers responded with the mountain rescue crew.
The responders determined Shin was dead at about 8 p.m., according to Guertin. A Cascade Locks volunteer arranged for a friend to bring in a personal drone, which was flown down to where Shin's body was.
Getting safely to that location was a distinct challenge, according to Guertin. He called it "a very inaccessible spot" and the responders had no choice but to wait until morning. About eight Crag Rats met at 7:30 a.m. at the trailhead and were on scene about 45 minutes later. They went up at 8:15 a.m.
"It was challenging, and they had to do a lot of expert rope work," Guertin said.
The scenic falls is a popular hiking and climbing destination, accessible about 1.5 miles up the access road.
Hughes said, "As far as we can tell there is nothing that says you can't do what they were doing." The group accompanying Shin "had a mixed bag of experience," he said. "Apparently it was different groups that met, and some had just met Mr. Shin, others knew him well."