No one is under any obligation to carry a flag someone else has cravenly dragged in the mud.
This is what U.S. Rep. Greg Walden should keep in mind when it comes to Donald J. Trump.
Trump has repeatedly told lies, slandered individuals and groups, and steered his party — and potentially a nation — down a course of fear, hate, and willful malice.
He has taken the GOP standard and repeatedly dipped it in filth while expecting good men, such as Walden, to hold the party banner high.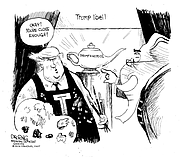 Walden, the lone Republican member of the Oregon Congressional delegation, should rescind his support for the Republican presidential nominee, in keeping with what fellow party members around the nation are increasingly doing. It sort of made sense for Walden to back Trump in July, right after the party convention, but since then Trump's wrath and deceit have folded over repeatedly like a badly-cooked omelet, and it is time for Walden to say "enough."
Trump is in the process of delegitimizing the GOP, and unless Walden is irrevocably committed to a slur-scarred Potemkin version of the party, he will issue a statement soon that says, in effect, "I no longer stand with Trump. Instead, I stand with my party."
The party whose former standard-bearer, Ronald Reagan, was well known for his brave words, "tear down this wall," is now headed by a man who wants to build a wall. An irrational, and probably impossible wall. But he has staked his profile on walls of many kinds, casting himself as a leader and visionary, when he is at best a myopic rabble-rouser.
Walden should consider himself under no further obligation to support Trump. Yet to disclaim Trump is not the same as claiming Clinton or any other candidate. Disclaiming Trump is a statement for anyone who values the party.
Trump is, the Washington Post recently opined, in the process of explaining away his impending loss, by claiming the election is "rigged." The Post states, "The conspiracy theory is brazen in its simplicity and lack of factual basis, especially this far before votes are actually cast. And yet, in a number of ways, it's pretty clear that this is the kind of explanation that many Republicans will embrace."
This is unfortunate, and Republican leaders of conscience, such as Walden, have a responsibility to all citizens to debunk these false arguments. Between 2000 and 2010 in U.S. general elections, out of 639 million total votes cast, there were 13 verified cases of in-person voter impersonation.
Trump's "the system is against me" is shell-game politics on the largest possible scale: keep people's eyes on a shifting target that is not really there. In advertising, the "invented need" is a common ploy; in Trump's malignant campaign, "created fear" is the tactic, but it is a tainted one.
Trump is not a leader, he is a demagogue. He has vision, but it is clouded by a selfish view of what he can gain from a nation riddled with unsubstantiated fear. A cartoon (above, left) by John Deering captures it well, with its subtle but brilliant play on words: "Trump-l'oeil" — after the French artistic term "Trompe l'oeil," (trawmp-loy) — literally "fool the eye."
The art form uses illusory dimensions to trick the eye into perceiving a painted detail as a three-dimensional object. What is flat looks deep.
In Trump l'oiel more than just the eye is deceived.