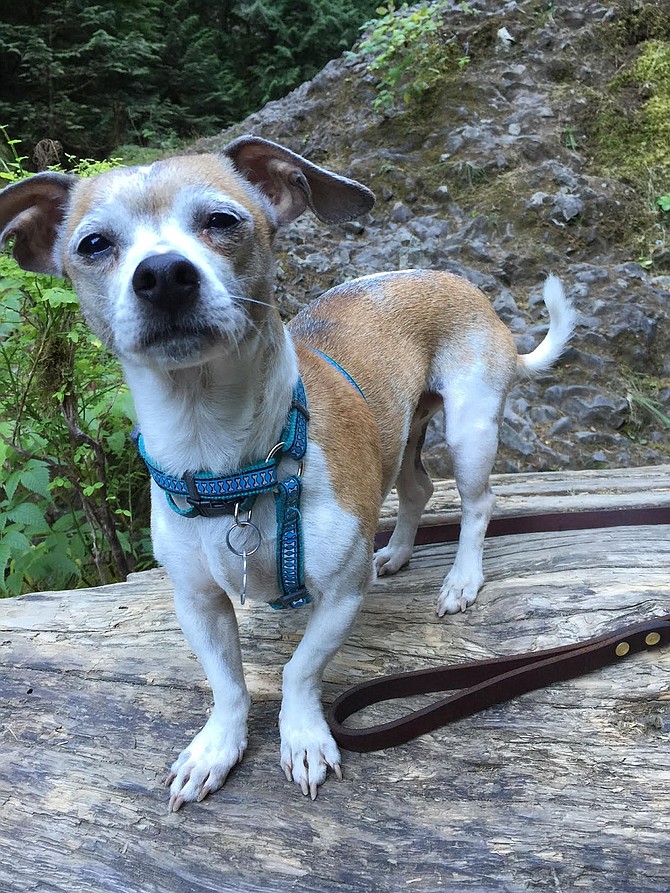 JellyBean has once again been selected by volunteers as Adopt A Dog's adoptable pet of the week. Can you believe he's still looking for his forever family? Neither can he!
JellyBean has been with Adopt A Dog since early May, and he hasn't had any calls. How can anyone resist that dashing and debonair gaze? He's been in a foster home all this time, but now the foster has to get back to work, and that means little JellyBean goes back to the shelter.

JellyBean is about 8 years old, maybe a mix of Jack Russel Terrier and Chihuahua, and at just 10 pounds, he's the perfect size for any lap and he certainly is comfortable with the lap dog status! But he's also a durable little guy and loves long walks or hikes and can keep up with the big dogs, no problem. JellyBean is super playful and loves squeaky toys, is pretty darn good at fetch, and has gotten the hang of car rides, too, so he's a great copilot for errands. What more could you ask for?! If you'd like information to foster JellyBean, or better yet, make him a part of your family, give us a call.
JellyBean is house trained, current on shots, microchipped and neutered. The adoption fee for JellyBean is $150. The fee to adopt is charged to recoup standard veterinary expenses. Since many of our dogs are in foster, please call ahead to meet JellyBean in Odell at the Hukari Animal Shelter, 3910 Heron Drive, or call for more information at 541-354-1083. Adoption hours are Wednesday, 5-7 p.m. and Saturday, 9-11 a.m.
Fill out an application online at our website, hoodriveradoptadog.org, or download and scan and email to us at adoptadog@gorge.net, or fax it in to 1-877-833-7166. We offer 24PetWatch microchips, which include free registration into the 24PetWatch pet recovery service.
For more information visit www.24petwatch.com or call 1-866-597-2424.