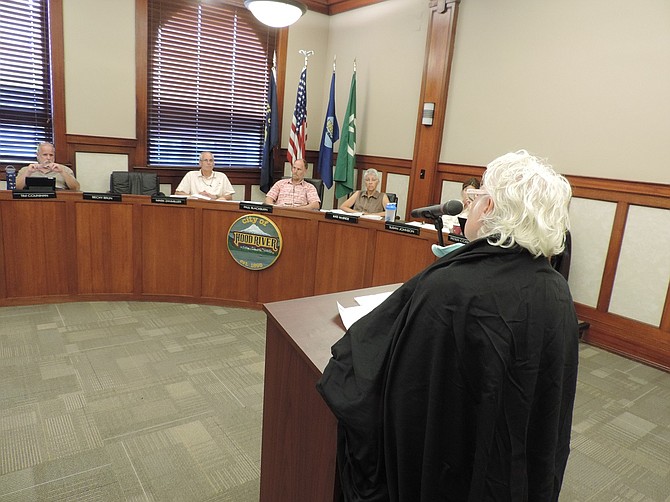 On a night when a local builder decried "the critical lack of affordable housing" and called for city action on the issue, Hood River City Council adopted short term rental regulations a year after the issue came to dominate its docket.
By 5-1 vote, council approved Ordinance 2026, regulating STRs in the city — which will formally take effect after second reading of the ordinance on Sept. 12. In favor were Susan Johnson, Kate McBride, Peter Cornelison, Tim Counihan, and Mayor Paul Blackburn. Becky Brun, who operates an STR, recused herself and did not vote.
Councilor Mark Zanmiller voted against the ordinance, saying, "This hurts so bad," at his turn in the roll call vote. Blackburn interjected, "You have three choices" — yea, nay or abstain.
The long-debated ordinance is the first of a three-part strategy the city adopted in 2015 to deal with the lack of affordable housing (aka work force or accessible housing).
"I completely oppose it," said Elizabeth Whelan on Ordinance 2026. "It is very flawed, and could have a wide and sweeping effect on zoning regulations," citing the 7,000-foot minimum lot size cited in the ordinance, compared to the 5,000-foot minimum that has been discussed as part of the overall affordable housing strategy.
The other two strategies, yet to be formally addressed by the city pending the STRS issue, are increasing residential land use efficiency and development of affordable housing structures.
Joel Madsen, director of Columbia Gorge Housing Authority, who is working with the city on the full strategy, said Monday that he would have liked the STR issue to be resolved sooner, but he said he supports the ordinance and views the council action as an important step toward meeting the need.
Builder Mike Kitts reiterated his request from the previous council meeting that the city rescind its order prohibiting new municipal utility hookups for housing construction outside city limits, suggesting several provisions for projects that are demonstrably affordable housing. "You are making it nearly impossible for anyone to build the kind of homes this community needs," Kitts said.
Kitts' real estate broker, Greg Colt, testified that no homes under $300,000 are on the market in Hood River and only one under $350,000. A home costing $350,000 requires an annual household income of $72,000 to $75,000, according to Colt.
"That's not possible for one teacher; that's a two-teacher house," he said.
The STR ordinance restricts to 90 or less the number of days STR providers may rent out their homes, and requires that the home be their primary residence. It also sets out a seven-year amortization period for STR owners. Also known as grandfathering, amortization means that STRS that are not in compliance with the ordinance have that amount of time to phase it out. Initially, the city had looked at a five-year amortization period, and up to double the number of days STRs could operate each year.
Testimony was split 7-7 out of the 16 people who testified Monday on the ordinance, many calling it a fair compromise, others saying it would restrict an important part of the economy. (Two speakers asked questions but did not take a yea or nay stance.)
"I've watched and listened throughout this process, and you have done a really great job," said Kate Hoffman of Hood River. "There has been an intelligent and fair discourse, and I know it has not been easy. I support this as compromise."
Former council member Laurent Picard spoke strongly in favor of the ordinance, saying, "As a resident of Hood River and as someone who has studied the issue of STRs pretty extensively over the last 18 months, I fully support this ordinance as presented." He resigned in May, citing the deadlock over the issue.
"On the continuum of regulations you could have chosen: from keeping the status quo — in which STRs are not allowed in the residential zones-on one end — to minimal regulation on the other end, this really is a solid compromise.
"It is my hope that we can increase the density of our neighborhoods for more available housing without a large portion of that housing becoming STRs, and hope that that it won't be multi-billion dollar conglomerates like Expedia and Air Bnb deciding our future for us; it will be the citizens of Hood River deciding it for ourselves."
One dissenter took an unusual tack: Lesley Lamb of Hood River was last to testify, and she stood in silence for two minutes, wrapped in black cloth, saying it was a symbol of her opposition having been silenced.
"I support regulation, not elimination," said Lamb, co-owner of Hood River Rentals. "I stand in silence as you have not listened to the majority," she said. She stood at the podium and the room remained silent for two minutes, when Blackburn said, "Thank you, that concludes the public testimony section of the hearing."