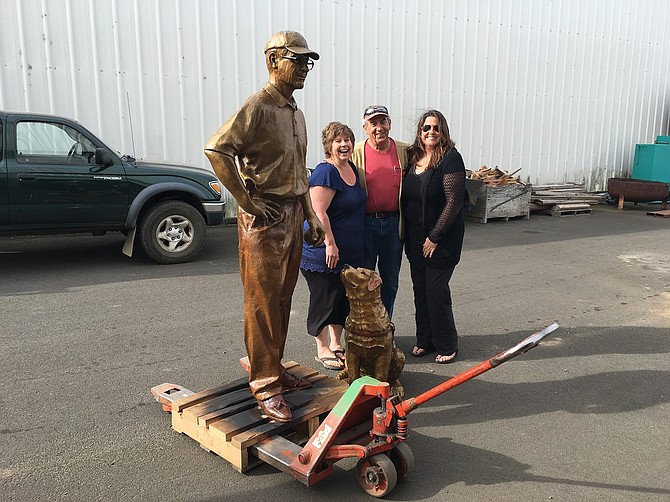 Ken Jernstedt and Driscoll are back, in bronze.
A sculpture by Cascade Locks artist Heather Soderberg-Greene has ended a two-year odyssey at Western Antique Aeroplane and Automobile Museum, a fitting place for a work of art honoring a an aviator, statesman, and community servant (and his dog).
Jernstedt, former mayor of Hood River and state representative from Hood River County, grew up in Hood River and served in China in World War II, becoming a decorated Flying Tiger ace. The Port of Hood River airfield was named for him in 1998. Jernstedt died in 2013.
In 2014 his friend, Bob Nippolt of Hood River, began raising funds and working with Soderberg-Green on creating a statue in Jernstedt's memory.
The statue is of Jernstedt and his beloved guide dog, Driscoll, who died in 2006.
Nippolt died in 2015 but his daughter, Annie, and friend and fellow aviator Felix Tomlinson continued the project with Soderberg-Greene, gaining agreement from WAAAM to place the statue somewhere on the grounds. The precise location is still to be chosen, according to Tomlinson.
"He was a dear friend and one of Hood River's most beloved citizens, and we wanted to follow through on this in his memory," said Tomlinson, an orchardist. He noted that the statue depicts Jernstedt as a young man, to remember the vigor he displayed in life.
The statue of Jernstedt and Driscoll playing ball is on view inside the museum; a ceremonial unveiling will happen on Fly-In Weekend, Sept. 10, with details to be announced.