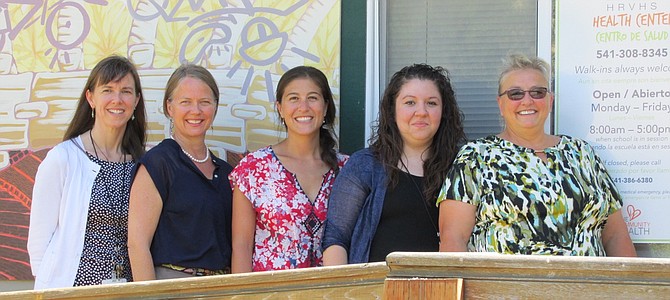 With school now in session, all students in Hood River County School District have a new option for medical and behavioral health care. The School-Based Health Center (SBHC) at Hood River Valley High School is officially announcing the expansion of these health services to any student residing within Hood River County.
"We are expanding services to include all students within the school district because healthy students learn best," said Lynne Frost, administrator and medical director for SBHC, which is one of three locations operated by One Community Health, a nonprofit Federally Qualified Health Center with facilities in Hood River and The Dalles. "Offering access to all students promotes greater access to health care services to keep kids healthy, and this better positions them to be successful in school. It's a win-win all around."
SBHC, which sits on the high school's southwest corner, operates in sync with the Hood River County School District's (HRCSD) calendar. It's backed by a team that, in addition to Frost, includes Heather Nielsen, licensed professional counselor, Sarah Dang, family nurse practitioner, Christina Ayala, team assistant, and Melody Farrell, certified medical assistant.
"The care provided by the SBHC team follows evidence-based guidelines that emphasize prevention, education, and empowering students and families to making healthy decisions around their long-term health," Frost said. "Great health care is more than clinical excellence, however. We must also ensure students will have a very positive experience when visiting the health center."
For example, OCH welcomed recent volunteer efforts for improving the SBHC grounds, which now gives the building a more inviting look and feel. In addition, arrival and check-in procedures have been established for off-site students wishing to access care at the SBHC.